SBF Petroleum/CGI 50-overs Franchise League…
ꟷ Anderson, Foo among runs
In the sixth round of matches played on Tuesday last, Lower Corentyne took first strike at Young Warriors where the cumulative efforts of their batsmen resulted to a score of 250-8 in 50 overs. Kevlon Anderson, played exceptionally, hitting six fours and one six in his top score of 94. Closely threading behind, Jonathon Foo, another magnificent performance, leading to a score of 84, amped-up by five sixes and six fours.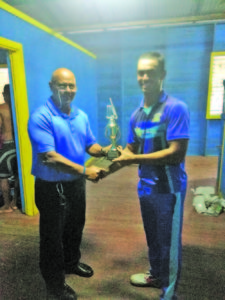 West Demerara secured the win by 6 runs as lighting affected play, thereby, requiring the Duckworth Lewis and Stern method. Tagenarine Chanderpaul reached a century hit a composed 105 runs, hitting four sixes, and six fours which was vital in his team's battle for the win. His counterparts, Tevin Imlach added (34), Malcom Hubbard (25), and Raymon Reifer (20) collectively aided in securing the 6-wicket win.
Upper Corentyne v East Bank
Upper Corentyne won the toss and elected to bat reaching their maximum at 172-6 in the prescribed 30 overs. Opening batsman, Alex Algoo, wasted no hesitation to strap in as many runs as he could to top the board at 67, Clinton Pestano 41, bowled out by Ronaldo Alimohamed (1-34). Sherfane Rutherford, right arm fast bowler, picked up 2 wickets.
For the reply, East Bank captured the win with 6 wickets to spare. Vishaul Singh stands undefeated and, again, feature as the top scorer for his team by contributing 59 runs. Trevon Griffith, Mavindra Dindyal and Yudister Persaud, respectively added 37,27 and 12 not out in reaching their target. Eon Hooper, on the bowling side, claimed 2 wickets off 39 runs.
The Final round of the SBF Petroleum Jaguars One-Day 50 overs league will bowl off today Thursday, October 24 ,2019, where Georgetown will battle East coast at Lusignan, Essequibo seeking to retain their title will face East Bank at Everest, Lower Corentyne versus Upper Corentyne at Young warriors and West Berbice engages West Demerara at Tuschen. The action commences at 9:30 am.