On Monday national player Christopher Barnwell presented the winning trophy for the inaugural tape ball Cricket Bash Tournament at a simple presentation ceremony at the Demerara Cricket Club (DCC) Pavilion.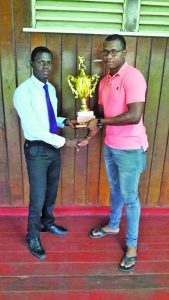 Once it regards the progression of youths at DCC, Barnwell has continue to make significant contributions. This time he decided to contribute the winning trophy for a tournament that promises to be very competitive and exciting.
DCC players, Dexter George and Tevin Imlach are the coordinators for this event and the former national junior players have scheduled the event for two days, March 11 and 12 at D'urban Park. Imlach is also a former West Indies under-19 champion wicketkeeper.
Cricket teams from across the country are eligible to participate in the competition. There will be rewards for teams as well as individual performances such as trophies, hampers and cash incentives.
Cricket lovers are urged to support and three lucky females will have the opportunity to compete in a bowl off for credit of their preferred network on the final day.
Registration fee is $10, 000 per team. Interested teams are asked to contact Dexter George on 671-0458 or Tevin Imlach on 688-7982 for registration.
Registration closes today.