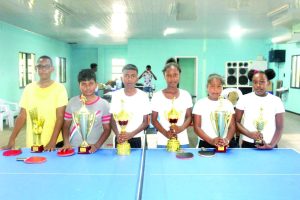 Action in the Bartica Table Tennis Steering Committee (BTTSC) Regatta Table Tennis tournament, played at the Bartica Community Center on Sunday, April 30, 2023, saw the likes of Katalena Gibson (girl) of Two Mile Primary and Aidan Sheriff (boy) of St John Primary winning in their respective categories.
Heading into the tournament, all players were aiming to bring their best versions of the game to the tournament. They had their game faces on, and only the best-of-the-best would emerge victorious. In fact, the anticipated matchup saw the 11 years and under boy's battle, with names such as Abar Ishak, Christopher Edmond, Seeffo Pollydore, Aidan sheriff, Akeem DaSilva, Joshua James, Selwyn Brown, Jereon Persaud, Adriano Stoby, Upendra Chowtee, Jaden Thornhill, Jaden Williamson. Girls match up saw the names such as Kaylean Charles, Nicola Gennie, Alanea Moe, Jelena Atkinson, Allia Hassim, Annalise Jardine, Alesha Gonsalves, Arianna Lonke, Nazeema Lewis, Katalena Gibson, Samantha Garraway, Rosanna Patterson.
Aidan Sheriff of St John Primary bested Upendra Chowtee of Two Miles Primary in an intense final in the 11 years and under boys which ended 11-6, 9-11, 8-11, 11-2 and 11-8 (3-2) Selwyn Brown of Potaro Primary finished third and Jaden Williamson of Two-Mile Primary finished in fourth place.
In the semi–Finals Chowtee defeated Williamson 3-0 and Sheriff defeated Brown 3-1
In the 11 years and under girl's finals, Katalena Gibson of Two Miles Primary defeated Rosanna Patterson of Two Miles Primary 11-7,7-11,6-11,11-4 and 11-8 (3-2), and third place went to Samantha Garraway of Two Miles Primary she defeated Alesha Gonsalves of Potaro Primary 3-2.
In the semifinals Gibson defeated Garraway 3-1 and Patterson defeated Gonsalves 3-2
Tournament sponsors were Super Gold Mining Bartica, Guyana Committee of Service, Guyana Table Tennis Association, National Sports Commission and Mr. Lashon Jordan of Bartica
This tournament attracted over 30 players and four schools namely St Anthony Primary, St John Primary, Potaro Primary and Two Miles Primary. BTTSC president Mr. Timothy Cornelius and GTTA General Secretary Mr. Linden Johnson give words of encouragement to the young table tennis players and they would have taken in every word of encouragement given to them.
Presentation of trophies were presented for both the Male and Female Categories for the first, second and third positions.