– 48 called to trials
The proactive Berbice Cricket Board (BCB) on Sunday will start early preparations for the 2019 Under-15 Inter-County Championship, which is scheduled for early February.
The BCB has appointed Upper Corentyne Cricket Association Secretary Lakeram Latchman as the Manager of the Berbice Under-15 team, and Leslie Solomon, who was the 2018 successful Coach, has been reinstated.
Late November, the BCB started its on-field preparation with the hosting of the second edition of the Mike's Pharmacy Under-15 Tournament. Earlier this year, the BCB hosted the first edition, which was won by Albion Community Centre Cricket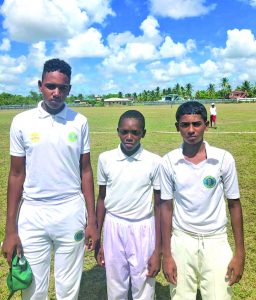 Club, who defeated Rose Hall Town Farfan & Mendes Under-15 by six runs in the final at the Albion Cricket Ground.
The following players are asked to report to the Albion Community Centre Ground on Sunday December 30, 2018, at 10:30h with their cricket gear and white uniforms:
Isaiah Thorne, Boodram Lakeram, Baskar Dhanai, Kumar Deopersaud, Rampertab Ramnauth, Willon Semple, Naresh Veersammy, Altaf Balman, Sanjay Algoo, Tameshwar Mahadeo, Justin Megu, Reyad Rahaman, Veer Farhad, Rashad Gafoor, Matthew Pottaya, Andy Tageraj, Adbur Munroe, Tiquan Samuels, Damian Cecil, Travis Dookarran, Shazam Khan, Mark Ramahlo, Kelvin Samuels, Tuvraj Shaundeo, Shiv Harripersaud, Dwayne Williams, Tulseram Ramsarran, Savian Orokium, Devon Sobhai, Romeo Deonarine, Avoshkar Persaud, Ryan France, Christopher Deroop, Antonio Ramphal, Rawl Dindyal, H Felix, Salim Khan, Raheem Khan, Tavindra Doobay, Tomesh Hemraj, Lakeraj Ramlekan, Saglain Mc Almont, Jevon Duncan, Tovsaunt Connely, Icjundo Rogers, Kenny Budhoo, Manoo Inasak, Nyron Hicks and Tameshwar Mangall.
A squad of 26 will be selected from the 48 selectees, for the hosting of two trial matches in January, 2019. The BCB hopes to name its Inter-County Team by January 15, 2019, so that the appointed Manager and Coach can have adequate time to properly prepare the team.