The Guyana International Kyokushinkai Martial Arts Academy (GIKMAA) started the year 2018 with 34 students, (Enmore (25) & Wales (9)) with a goal of having at least 50 students by the end of 2019 in each dojo.
From January to date, the GIKMAA has had 34 new registrations. Of the 34 new students, 28 are still with the academy which adds up to 62 members.
The GIKMAA officially launched a new branch in the month of April with three students and Instructor Vikash Somwaru of St Cuthbert's Mission. To date, Kyokushinkai Guyana have 3 branches with a total of 73 students.
The successful club thus far participated in four tournaments and reaped exponential benefits, competing in the Korean International Martial Arts Guyana tournament on July 22, 2018 in which one student competed, (Miranda Bennett)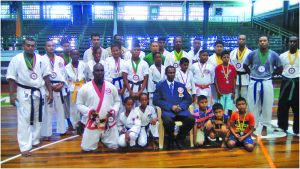 and bagged three gold medals.
Previously, they participated in the National Martial Arts Championships on May 28 of 2017.
Of the nine students in the Kyokushinkai Guyana Team: they won 16 medals – 13 golds and three silvers. The club then participated in the Shuriken Karate in Suriname and the fourth International Karate Tournament on August 19, 2018 in which they won nine medals: three golds, five silvers, and one bronze.
In their most recent feat, the club participated in the Kyokushinkai Martial Arts Academy's sixth Open International Martial Arts Championships on September 23, 2018 and walked away with 36 medals – 18 golds, 12 silvers and six bronze.
In total, for the year 2018, the GIKMAA has accumulated 43 gold, 24 silver, and 9 bronze medals, along 21 hall of fame awards.
Dr Nazim Yassim is very happy with the progress that the Academy has made in accomplishing at least 90 per cent of what was planned for the year 2018, but was more so pleased about the new branch that was opened in Enterprise, East Coast Demerara, by Junior Instructor Vikash Somwaru.
Dr Yassim now looks forward to the new year as he continues to share his knowledge with his students of the Guyana International Kyokushinkai Martial Arts Academy and would like to thank everyone for their continued support as they looked forward for the same in 2019.
For more information on upcoming events for 2019, contact GM/Soke/Dr Nazim Yassim
on 592-662-7211 or 592-654-2789.