GFF/NAMILCO Thunderbolt Flour Power National Under-17 League…
The action continued over the weekend in the Guyana Football Federation (GFF) NAMILCO Thunderbolt Flour Power, National Under-17 League at the Den Amstel ground, as part of the West Demerara Football Association (WDFA) leg of matches with Beavers FC continuing their winning ways when they trounce a seven-man Wales FC 1-0.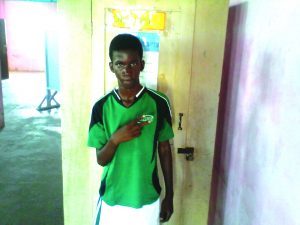 The lone goal in the match came off the heels of Telbert Baptiste in the 21st minute. On Sunday, another match was marred by red cards, with FC Eagles eventually winning over Golden Warriors after protest.
On Saturday, Slingerz FC will clash with Wales United from 12:00h then on Sunday Den Amstel will host FC Eagles.
Title sponsors NAMILCO,   have  been urging both players and  persons at large to  live a healthy lifestyle by indulging in the usage of its heath oriented products Maid Marian Harvest High Fibre Whole Wheat Flour, Maid Marian Wheat-Up Breakfast Porridge, and Maid Marian Multigrain Flour among many other products.