Five armed men on Monday stormed a well-known supermarket located in Diamond, East Bank Demerara (EBD).
Hua Supermarket, located at Lot 521 Section A, Block X, Diamond Public Road, was robbed of an undisclosed amount of cash and other valuables.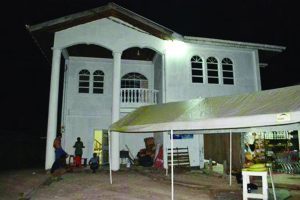 The tenant of the building, identified only as "Deepa", confirmed the robbery occurred to Guyana Times.
"Deepa", who lives in the upper flat of the building, was cleaning her home when a staffer knocked on her door to inform her of the incident.
She explained that the proprietors of the establishment were not present at the time of the robbery, but their relative who was there was beaten by the gunmen.
Reports indicate that the perpetrators also cut the telephone line to ensure that no one would be able to call for help.
This is the second time gunmen hit the property, as the owner of the building disclosed that she was robbed in July.
Police have launched an investigation into the incident.