Forty-four-year-old Khemlall Bisnauth, called "Bison", was on Wednesday arraigned for the murder of his older brother who he reportedly stabbed to death on May 30 during an argument.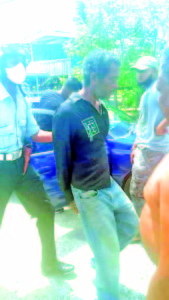 Bisnauth, of Shieldstown, West Bank Berbice (WBB), appeared before Magistrate Rabindranauth Singh at the Fort Wellington Magistrate's Court and was not required to plead to the indictable charge.
Police stated that on May 30, 2020, at Shieldstown, Bisnauth murdered his 45-year-old brother, Sarananand Bisnauth, also known as "Sardanan" and "Long Hair."
It was reported that on the day in question, the two brothers were consuming alcohol at their home when an argument broke out between them.
The argument escalated into a fight, and it was then that the younger man armed himself with a knife and attacked his sibling, who was sitting in a hammock.
The now dead man attempted to block the vicious attack and was cut on the right arm. The knife, however, ended up stabbing him in the chest.
A post-mortem examination showed that Sarananand died from a stab wound to the chest. The accused was remanded to prison until July 1, 2020.