…as real estate value increases six-fold
For over a century, the county of Berbice has been referred to as the "ancient" county while Essequibo is known as the Cinderella County; the ancient is soon to become modern. That is according to Region Six (East Berbice-Corentyne) Chairman David Armogan.
He made this comment on Thursday at the sod-turning ceremony of a business centre for persons living with disabilities at Palmyra.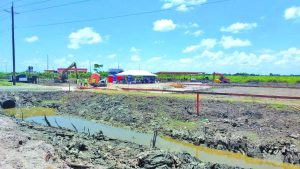 The centre is one of several developmental projects earmarked for the area. Among the other projects as outlined by President Dr Irfaan Ali earlier this year are a state-of-the-art hospital, an international stadium, shopping malls and a municipal airport.
"This area is poised for very serious development and so the value of property in this area is also going to increase with the development that is taking place here. The people in this area are very happy because the development is adding value to their property," Armogan revealed.
Real estate which was valued at $2 million in 2020, is now valued at $12 million.
Construction is on the way for a call centre next to the site for the business centre.
The call centre, according to Armogan, will cater for 1000 jobs.
"We are accustomed to being called the Ancient County, well that will shortly change to the modern county… the call centre will cater for qualified school leavers who cannot find jobs."
Additionally, a deep-water port is being constructed at Crab Island. The entrance will be from Palmyra. Construction of the deep-water harbour is in the advanced stages. (G4)