…"me could not believe what me see" – distraught mother
A motorcyclist is now dead after colliding with a parked car along the Corentyne Highway in Region Six on Friday evening.
Dead is 23-year-old Noel Channan also called "Titoo Bai" and "Mustapha", a tattoo artist and a labourer of Lot 234 Ankerville, Port Mourant, Corentyne.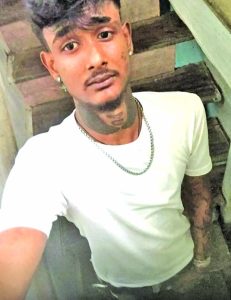 Eyewitnesses say on Friday around 19:00h, Noel was riding a motorcycle and was proceeding south along the eastern drive lane on the Alness, Corentyne Public Road.
It is alleged that the man lost control of his motorcycle and slammed into a car that was parked on the eastern side of the said road's shoulder.
The car is owned by Arlington Austin, a vendor. He recalled sitting at his roadside stall with his wife and seeing Channan pass twice before he crashed. "When I get up and look, I see a motorbike turn over near the car and when I rush over the road, I see [Channan] lying on the road, facing the car. The motorbike bruk up and it damage my car," Austin stated.
Meanwhile, the dead man's mother, Salima, told this publication that her son went out to celebrate his birthday on Thursday and returned on Friday morning. She recalled asking the young man not to go on the road with the bike and he promised her that he would not be out long since he was going to go drop his friend home.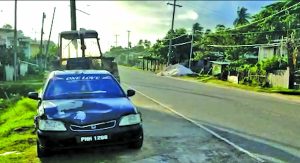 "Meh say alright me ah wait fuh you [but] me gotta go market so meh gah sleep early. He said 'Mommy, five minutes' he nah go take long and he go and drop his friend… [Then] meh get wan call about 7 o'clock last night that me son reach in accident at Alness and he lay down pon a road," the grieving woman stated.
According to Salima, she rushed to the Port Mourant Hospital, where she saw her son in the back of a pick-up truck.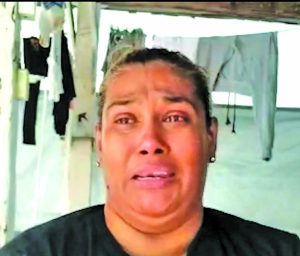 "Meh son body lie in this pick-up like a piece of tool. Me could not believe what me see."
The woman described her son as a "very nice" and willing young man.
"He always be good to people, only me he does be rude to," the distraught woman cried.
Meanwhile, Police said that based on information received, the motorcyclist was lying on the motorcycle with his hands on the handlebar and feet extended to the rear, without a safety helmet, while riding the cycle at a fast rate of speed. As the motorcyclist was negotiating a right turn, he lost control of his motorcycle and collided head-on with motor car PHH 1266, which was parked on the parapet.
Police are still investigating the incident. (G4)