…Govt trying to create environment for positive change – President Ali
Two communities in Region Six (East Berbice-Corentyne) – Corriverton and New Amsterdam – are slated to benefit from family-friendly recreational parks.
President Dr Irfaan Ali on Sunday visited the sites earmarked for these two projects.
The Head of State, who travelled to Berbice for the region's clean-up and beautification exercise, explained that the parks will be constructed by the Public Works and the Local Government and Regional Development Ministries in collaboration with the Private Sector and the regional administration.
"This is the type [of] effort that really ignite the type of change we want to see," the President asserted.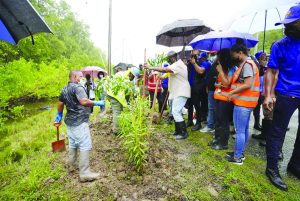 The family-friendly recreational parks will include enhanced safety zones for children and the elderly, seating areas, and green spaces.
Government intends to establish similar dedicated spots in every community where families can relax and be at leisure, and create a safe space for children.
During his visit to the region, the Head of State was accompanied by Local Government and Regional Development Minister Nigel Dharamlall, Minister within the Public Works Ministry Deodat Indar and Agriculture Minister Zulfikar Mustapha.
They joined the Regional Democratic Council, members of the Private Sector, the Joint Services and residents at several locations across Berbice where clean-up activities were being undertaken. These included the cutting of grass and shrubs, clearing of the road shoulders and clearing of the drainage canals among other tasks.
According to President Ali, this national clean-up initiative is aimed at bringing about a new culture of enhancing the beauty of Guyana. That beauty, he pointed out, must come from the way citizens think, act, behave and more importantly, the way they treat their environment.
"So, this is an important part of what we are doing, trying to create an environment in which we can have positive change and positive energy; and that must come from all the people… The life of all Guyanese moving towards a positive direction in creating the type of change we would like to see, the type of environment we would like to live but more importantly, the type of environment we would like to leave for future generations," the Head of State noted.
He went on to outline the importance of citizens participating in these exercises, that will be executed throughout the country, in order to enhance their communities and ensuring it stays clean and conducive for families.
Meanwhile, upon his arrival in Berbice on Sunday morning, President Ali participated in a tree-planting exercise along the roadway leading to the eastern end of the Berbice River Bridge.
Over 50 trees were planted on that stretch of road to enhance the aesthetics of the environment. In addition, the lights along the road were fixed, and more will be installed.
"So, we are planting trees on both sides of the road, enhancing the environment. We are also putting in lights. So, by [the end of the day] people will see an immediate impact and change in the general look of the area, the sense of safety and security," the President stated.
The Ministries of Public Works; and Local Government and Regional Development are also leading this initiative with the former taking charge of the installation of the lights, while the latter will be responsible for maintaining the aesthetic of the area.
In Government's whopping $552.9 Budget 2022, some $3.3 billion has been allocated to finance improvement and enhancement of the aesthetics of the environment across major urban areas across the country, with a particular focus on the capital city.
Two weeks ago, President Ali kicked off the clean-up campaign with a massive two-day exercise in Georgetown that saw the clearing of illegal dumpsites, weeding and raking of parapets.
He had stated that this was just the tip of the iceberg as it relates to Government's plans to drastically transform the capital city. He also revealed that there will be ramping up of monitoring throughout the city to capture litterbugs who are intent on defacing the city.
Since then, several persons have been arrested and charged for dumping garbage around Georgetown.
According to President Ali, this initiative to make Georgetown safe and clean is all part of his Administration's plans to ensure the city is conducive for families.
"We also want to create a city that is family-oriented, where families can come out and find a safe zone… If you saw what took place on Main Street during the [Christmas] holidays, it's an example of the how 'One Guyana' spirit is built when communities interact and come together," Ali had stated.
To this end, the President's plans to transform the entire Lamaha reserve into a 'Guyana Walk' with a local food court, craft and art will begin to take shape with the completion of one section of the reserve this weekend. (G8)