The Miss Renaissance Pageant will be held on August 19 at the National Cultural Centre with 12 professional women competing for the coveted title. The delegates were introduced to the media in June at a sashing ceremony.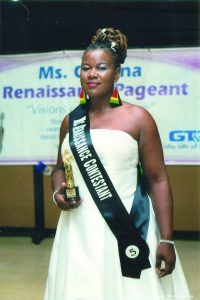 The pageant serves as a catalyst to re-educate the public about their inner beauty, creativity, cultural awareness and an accomplishment of the matured Guyanese women 30 years and older. For the next few weeks, the Guyana Times entertainment will feature each delegate.
This week, we are pleased to introduce to you 41-year-old Bevon Austin, Graduate Deputy Head Teacher (Acting Head Teacher) of St John's College who hails from Non Pareil on the East Coast of Demerara.
She was born on the June 15, 1975 to Mr Wesley Austin and Mrs Lucille Austin in the country of Essequibo. She is a proud mother of four children- Shane, Shem, Shontea and Shaniyah.
Growing up in Charity on the Essequibo Coast was quite rewarding. She attended the Anna Regina Multilateral School and was successful at her Secondary Examination in 1992.
She subsequently joined the teaching profession in October 1992 where she taught at Jacklow Primary School for nine months after which she was enrolled at the Cyril Potter College of Education in September of 1993.
There, she pursued the Secondary programme for two years. After which she returned to her hometown and assumed the duty of Assistant Mistress at Charity Secondary School.
She worked until 1999 and got registered at the University of Guyana to pursue the Certificate in Education and subsequently the Bachelor's Degree in Education programmes.
After four years, she graduated with a credit.
Her journey as a teacher took her to various schools including East Ruimveldt Secondary, Brickdam Secondary, North Georgetown Secondary and Beterverwagting Secondary. However, she joined the pageant due to the fact it offers her the opportunity to improve her elf-esteem and to be a role model to other ladies.