Belle Vue pre-season cricket match-ups…
The Belle Vue cricket team of West Bank Demerara had an amazing and fun-filled day of cricket on Saturday last as their pre-season cricket matchups were staged.
Dwayne Daymon, club treasurer and very active member, was responsible for staging this day of matchups, and it was done in a bid to better future performances in matches to be played in 2020.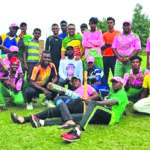 The Bell Vue team was split into teams 'A' and 'B', and those teams battled it out in front of their home crowd.
'Team A' having won the toss, batted first and posted a mammoth total of 204-9 in 20 overs. Colin Boucher was the chief architect of their happy circumstance, as he constructed a classy half century to give his side a defendable total.
Boucher top-scored with 57, which included 3 fours and 5 sixes; while Kerwin Bennett supported with 34, Paul Ashby chipped in with 27, and Ravi Prasad contributed 20.
The 'Team B' bowling recorded such sterling efforts as Vishan Gannie's 2-20, Richie Looknauth's 2-32, and Ryan Seecharran's 2-18.
Responding to the 204, 'Team B' pressed on to record 178-9, losing the match by 26 runs. Valiant efforts were recorded by Ryan Seecharran (46), Ajula Bowman (29), Nicholas Rajpat (14) and Teejay Ragnauth (13). Bowlers for the victorious side were: Ashby, with 2-12, and Rajendra Persaud, with 2-30; while Safraz Baksh, Boucher and Ravi Persaud each contributed a wicket.