WDCA T20 Competition…
ꟷ as Persaud, Bissondyal wreak havoc on All Youths side
Cornelia Ida (CI) defeated All Youths Sports Club by 99 runs in a one-sided match of the West Demerara Cricket Association's T20 competition, played over the weekend at the Menten-Meer-Zorg Ground.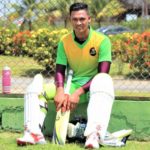 With the game reduced to 18 overs per side, All Youths won the toss and decided to field first in order to lengthen the match. The CI side were in trouble from the first ball bowled. They struggled to read the line and length of their opponents, and at one stage of the innings were struggling to attain triple figures.
That was before Ajita Persaud registered his 28 from some late hitting. He recorded five boundaries and a maximum that propelled CI to 139-7 when their 18 overs had expired.
Avishkar Ramgobin supported the CI revival effort with an unbeaten 27 that included three classy boundaries and one maximum; and Arshad Ali, with 24, struck four boundaries.
Putting in a decent effort, the All Youths bowlers managed to get rid of two top CI batsmen, Richie Looknauth and Akshaya Persaud, through an attack led by Abid Haniff, who bagged 2–17, and Zahir Azeez, who bagged 2-23.
Needing an apparently easily-achievable 140 off 18 overs in order to win the match, the All Youths side allowed themselves to be befuddled by CI bowlers Akshaya Persaud and Harrinarine Bissondyal, who eventually wreaked havoc in the All Youths batting line-up.
The All Youths innings eventually folded for 40 in 14.2 overs, with Akshaya Persaud bagging 4-9; Bissondyal picking up 3-5; Arshad Ali claiming two wickets, and Richie Looknauth supporting with one.