By Jemima Holmes
The opportunity of a lifetime fell into the laps of Guyana's Under-16 Boys, Under-15 Girls, Senior National players, and many other local players who showed up at the Guyana Football Federation's (GFF's) National Training Center (NTC) at Providence on Saturday morning.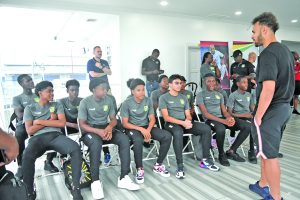 There, they met and interacted with Danish and Barcelona Forward Martin Braithwaite, who was eager to answer their questions, share tips, take pictures, and sign autographs.
The grassroots programme, according to GFF Assistant Technical Director Bryan Joseph, did just what it was intended to do for the youths. "We couldn't miss the opportunity for him to get an opportunity to talk to our young players, because Martin's story is very similar to what a lot of our young players experience. You know, they need to be pushed a little hard to make it. So, the fact that they have Martin here, we thought it best if we could arrange this massive event, so that he can have an opportunity to interact with our grassroots kids, our national team players, etc.," Joseph told this publication exclusively on Saturday.
Aside from allowing players to learn from this professional baller, Joseph disclosed, there were bigger goals for Saturday's activity.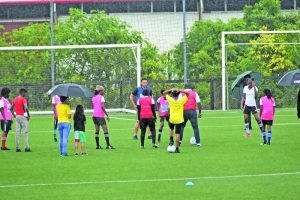 "Martin is a player, but what is important also is he's got a massive network. He's world renowned, he's got a lot of people who he can link with the Guyana Football Federation, and those discussions are already taking place."
Joseph continued, "He's making some promises to ensure that he helps in every way, including in a technical way, and we believe we can only benefit from all of this. Again, Martin's open to help and support the Guyana Football Federation, given that he's had this opportunity to meet us in person and the love that's he's felt from the Guyana people.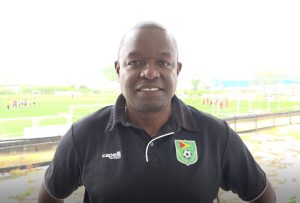 "He's open, and making some promises that once we start going into the details, I think Guyana football is going to go to the next level," the Assistant TD opined.
Quizzed about how impactful he believes the sessions were, Joseph was confident that Braithwaite's presence will do wonders for Guyana's football future.
Joseph commented, "They're excited! I saw him try to take a photograph with one of the female teams just now, and all the players are trying to hug him at the same time. So, I know this is going to leave a lasting impression in his mind and the minds of the players.
"What we hope here is that, again, Martin's visit opens doors and open opportunities for our players. Not only our players, but for the football in this country in general; and I think that has been achieved."
Joseph also voiced his appreciation for Martin's representation as the link between the Danish Football Union and the GFF. He remarked, "I'm happy that Martin feels comfortable and feels happy about the reception that he's gotten in Guyana, and we look forward to these relationships growing over the years.
Obviously, Martin also connects us with the Danish Football Union, so I know that when he gives his feedback, we will also benefit tremendously in terms of where the new partnerships can go."
Martin Braithwaite arrived in Guyana on Wednesday to visit his father's homeland, and has subsequently been introduced as the Goodwill Ambassador between the DFU and GFF.