GBTI Tennis Open 2017
With just under a week remaining in Guyana's premier lawn tennis tournament, Guyana Bank for Trade and Industry Tennis Open, action seems to be intensifying as players aim for the summit with consistent plays which is forcing fierce battles at the Bank's recreational facility at Bel Air Park.
In the most recent encounter veteran Harry Panday was outplayed by Brazilian Alexley Almeida in the Men's Over 45 Singles semifinal.
Panday, known for his aggressive style, was given a dose of his own medicine when he faced off with the Brazilian.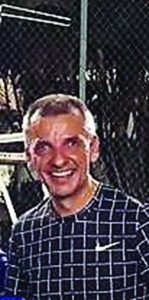 From early indications it seemed that Almeida was down and out as Panday frustrated him by having long rallies in the earlies and jumped to a 5-2 lead in the first set. From that point on Almeida dug deep and was involved in many points where he simply outlasted Panday at his own game with extended rallies.
Even at 5-3 and facing triple set point at 40-0, Almeida did not give up and came roaring back to take the set 7-6, which lasted over an hour. The second set was another tiring affair and ended in 6-3 in favour of Almeida as he completed the upset in his first appearance in the GBTI Open.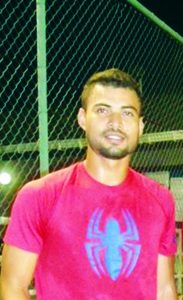 In the previous round Almeida also outlasted US Embassy Diplomat Albert Razick in three sets after losing the first. The victory against Panday propelled the Brazilian into the finals where he will face the winner of the match between Berbician champion Godfrey Lowden and Rudy Grant.
In the Ladies Doubles semi-final action, teenagers Sarah Klautky and Alana Chung put up a brave fight against coach Shelly Ramdyhan and Fiona Bushell. Ramdyhan dominated the exchanges from the net in the first set with precise volleying and shielded her less experienced partner by poaching returns. They won the first set 6-2 which was then followed by a close 7-5 score line as some entertaining and competitive tennis was played in front of a fair-sized crowd.
In the Men's Open Doubles quarterfinals, top seeds Anthony Downes/Jason Andrews made light work of Oswin Coggins/Devon Gonsalves 6-0 6-0 while the young dynamic pair of Heimraj Resaul/Jordan Beaton outplayed the Brazilian father/son combo of Alexley and Alex Almeida 6-3, 6-4, Andre Erskine/Mark McDonald also defeated the American father/son combo of Albert and Daniel Razick 6-3 6-4.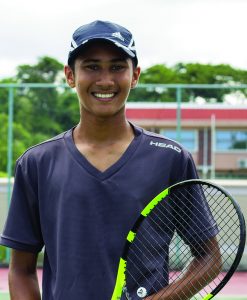 In the Mixed Doubles semis final top seeded Anthony Downes/Africa Gentle toyed with the promising young pair of Joshua Kalekyezi /Alana Chung before eliminating them 6-3 6-0, after blowing away young juniors Nigel Lowe/Akilah Jones 6-0 6-0.
The new pair of Joseph DeJonge/Fiona Bushell outlasted Nicholas Glasgow/Ciara Pooran 1-6, 6-4, 7-6(2) in a dramatic three setter.
In the fiercely contested Men's Open Singles category Anthony Downes warmed up for the defense of his title with a quarter final win over Nicholas Glasgow. The latter had his moments but was only able to win one game in the first set against the dominant Downes, who has won this category for the past 5 years.
Promising youngster Heimraj Resaul withstood a strong challenge from Andre Erksine but superior technique and mobility allowed him to prevail 6-4 6-2 in his quarter final matchup and book a place in the semi-finals against the top seed Downes. New entrant in the singles category Jason Andrews put up an intense fight against the young and versatile Daniel Lopes but he surrendered following a flurry of unforced errors at 6-3 6-3.
In the Men's 35 quarterfinals, there was a win for the tactical Andre Lopes over Harry Panday 6-2 6-2. Lopes went on to demolish newcomer table tennis veteran champion Colin France 6-0 6-1 while Leyland Leacock prevailed over Ronald Murray 6-2 6-4 in in an old match rivalry.
In the Boys Singles quarterfinals Jordan Beaton won against rising star Viraj Sharma 6-3 6-4 while Heimraj Resaul defeated Ravin Rampersaud 6-0 6-0 and Mark McDonald defeated Akil Browne 6-1 6-3.