Mournful tributes poured in Wednesday, following the death of Chief Executive Officer (CEO) of the National Industrial and Commercial Investments Limited (NICIL), Horace James. James, who was also Head of the Linmine Secretariat and former CEO of bauxite company Linmine, succumbed early on Wednesday morning at his home in Linden, Region 10 (Upper Demerara-Berbice).
It is reported that he has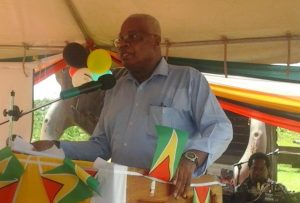 been battling cancer for some time and had recently returned from overseas where he had been receiving treatment. Following his passing, several Regional officials took to social media to offer condolences to his relatives and friends.
As is customary in the bauxite mining community of Linden, the horn was sounded for several minutes to signal the passing of a former bauxite employee. Member of Parliament (MP) Jermaine Figueira was among those who offered condolences.
"On behalf of the people of Linden/Region Ten and the PNCR (sic) Upper Demerara-Berbice, PNCR Georgetown Guyana we extend our heartfelt sympathy and condolences to the family, relatives, close friends and associates of our fallen comrade. He was a gem to many who knew him and an invaluable asset to this community. May his soul rest in peace and rise in glory", the MP wrote