…being treated as "any other accident"
Following an accident involving his Guyana Police Force-issued vehicle last Saturday, Police Commissioner Leslie James said that an investigation has been launched and is being treated as "any other accident" case.
"The only thing is with this matter is that the Commissioner of Police was involved, and other persons were injured. But just as how we would normally do investigations, we take statements and investigate, this is a matter just as such. It is not a special matter," James told reporters on Wednesday.
There have been conflicting details, such as the Top Cop's vehicle allegedly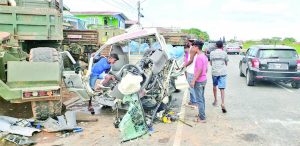 speeding without a siren, emerging from the collision which left three persons injured. The Commissioner, who along with his driver escaped unhurt, opted not to speak on the accident, saying that the ongoing probe will bring out the details of what transpired.
"I will not make any statement to [cause] any problem with this investigation. It's an investigation in progress and it will soon be wrapped up," he stated.
Meanwhile, the Top Cop disclosed that his personal assistant (PAC), Superintendent Allistair Roberts, and the two occupants of the mini-canter truck – the owner and driver, Basdeo Lalchan, 37, of lot 1718 Section B Block X, Great Diamond, East Bank Demerara (EBD) and occupant Jonathan Ramkellwan, 24, of lot 1374 Diamond Housing Scheme – who were all injured in the collision are still hospitalised.
Superintendent Roberts suffered a broken left shoulder and was admitted to the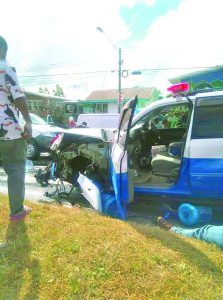 private institution, where he is recovering. Lalchan and Ramkellwan, who were pinned in the canter, are being treated for broken legs and back injuries at the Georgetown Public Hospital Corporation where they are admitted.
The accident occurred at about 14:45h on the Covent Garden Public Road, EBD last Saturday as the Top Cop was returning from the Cheddi Jagan International Airport (CJIA).
When contacted, Traffic Chief Linden Isles told Guyana Times that while heading to Georgetown, the canter, GWW 9079, which was selling water pulled over on the side of the road to make way for the police vehicle, PSS 4796, after hearing the siren approaching.
But the canter, according to Isles, could not go further into the corner because of parked trucks on the parapet and as such, when the Top Cop's Prado Land Cruiser was passing by, it clipped the canter and crashed into it.
However, residents in the area are claiming that there was no siren on the Commissioner's vehicle and that the canter was parked in the corner of the road when the police vehicle collided with it. The impact of the collision, residents say, caused the Force-issued vehicle to skid on the road and its side to be ripped by one of the "bush-trucks" parked on the side of the road.
A subsequent release from the Force's Public Relations said, "the canter suddenly swerved from east to west and stopped, leaving the rear portion on the driving lane; as a result, the left side front of the [police] jeep collided with the right side rear of motor canter GWW 9079 causing the said canter to spin around and collided to motor lorry GXX 230 [one of the parked trucks] and motor jeep collided to GPP 6739 rear [another vehicle] which was stationary on the western side of the road."
Both the canter and the police vehicle were badly damaged. The Commissioner's driver, Corporal Mark Smith, had passed a breathalyser test which was conducted after the accident.
Nevertheless, enquiries are in progress.