Story and Photos by Brandon Corlette
Impressive cyclist Briton John has had an unforgettable weekend, and would doubtless be savouring his successes for a long while.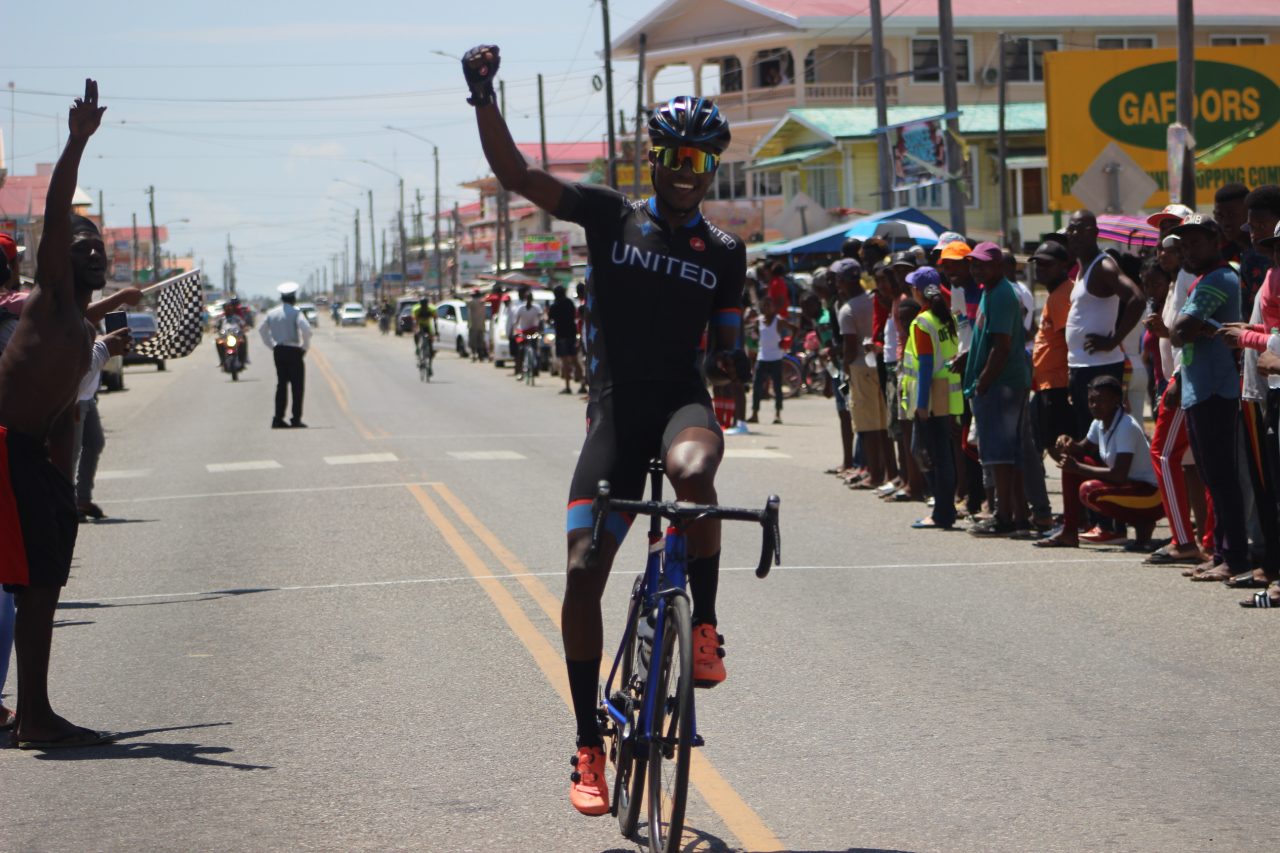 He has followed up his brilliance in the 35-lap Triskits Cycling event held in the National Park last Saturday by dominating the cycle race held in Berbice on Sunday: from the Rose Hall Town Arch to Number 53 Village, and back to finish at the point of origin.
John completed this race in one hour, 39 minutes and 21 seconds to outperform all the country's top racing cyclists, and his feat was witnessed by multiple hundreds of excited cycle-racing enthusiasts.
In the process of dominating this activity, he won four of the sprint prizes in the Senior category.
Team Cocos' Marcus Keiler came in second, while John's "currently in form" team mate Deeraj Gharbharan came in third. Kemuel Moses rode in fourth, while Adealie Hodge was fifth and Curtis Dey sixth, to complete the podium of top finishers.
The Berbician Andre 'Padlock' Green, having exerted his best efforts, finished sixth in the Senior category, but was disqualified because he had breached an official rule that prohibits a cyclist from being fed more than thrice. Andrew Hicks, another Berbician, was also disqualified.
Gharbharan took two sprint prizes, while Paul DeNobrega, Kemuel Moses, Marcus Keiler and Christopher Griffith each took one.
In the Veterans' category, Junior Niles reigned supreme, while Alex Mendes rode in second and Kwame Ridley came in third.
Jason Sampson, Ajay Gopilall and Juslin Thom were the top three cyclists in the Juniors category.
Berbician duo David Hicks and Steve Bhimsen rode in first and second respectively in the Juvenile category of the race.
This event, jointly organised by Club Fiesta, the Jagdeo Racing Stables, DJ Dauren, Jaggernauth Entertainment and Contemporary Events Planning and Décor, had all the action of an international event, with a few cyclists even being involving in minor accidents with animals that were obstructing the roadways.
John broke away from the pack at the approach to the turning point at Number 53 Village, and from then was never seriously challenged.
He was in sixth position when he made his move, and he commended his team mate Gharbharan for the support he had received from him during the race, as he explained that that support had allowed him to maintain a solid pace throughout the race.
For his win, John walked away with a trophy and the first prize of $50,000. He later explained that he was happy to see all his hard work paying off. He said that winning intense back-to-back races on consecutive days is simply an amazing feat.
John, who normally controls a race from its early stage, disclosed that he had the race under control with 35 miles to go.
"Everyone was attacking, and I saw the opportunity, which I grabbed", he highlighted.