Local businesses and nongovernmental organisations have joined forces to aid in the national fight against the deadly coronavirus, which has already claimed the lives of five persons in Guyana.
The Food For The Poor organisation on Tuesday donated several folding beds, blankets, pillows, cleaning supplies and other essential items to the Ministry of Public Health.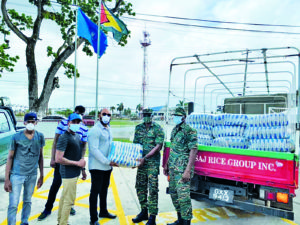 Additionally, Saj Rice Group Incorporated donated 70 bags of 30kg rice worth $208,205 while David Persaud Investments Limited handed over a cheque valuing $200,000.
Popular businessman, Jagmohan has also contributed $500,000 to the cause.
FoodMaxx Supermarket – which falls under the Giftland Group of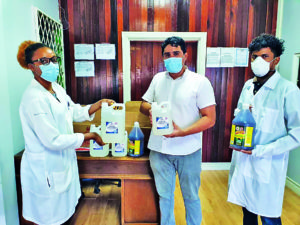 Companies – handed over 2880 pairs of gloves to the Georgetown Public Hospital Corporation (GPHC).
Twins Manufacturing Chemists has also donated 14 gallons of sanitising and disinfecting products to the West Demerara Regional Hospital.
Moreover, Dr Suzette Reynolds, Head of the Public Health Department at the Mayor and City Council, donated infrared thermometers to help in the fight.
Infrared thermometers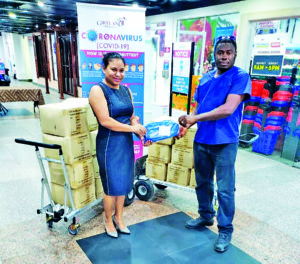 are thermometers that infer temperature from a portion of the thermal radiation. They are temperature guns that can measure temperature from a distance.
Furthermore, Wortmanville Vanguard's Secretary Towanda Clarke and Public Relations Officer (PRO) Mondale Smith, provided over 65 grocery packages. Some of the other sponsors include BK Group of Companies, Signature Moov, among others.
Beverage giant, Demerara Distillers Limited (DDL), has donated 12 drums of Environ, an alcohol-based sanitising cleaner with 70 per cent alcohol and an additional 254 five-gallon bottles.
Even the People's Progressive Party/Civic (PPP/C) is contributing significantly to the cause with its nationwide distribution of free masks to citizens.
The Guyana Hindu Dharmic Sabha has also rolled out a mask distribution initiative.
Meanwhile, the Civil Defence Commission's (CDC) food hamper distribution drive has been boosted by donations from members of the Private Sector.
The CDC said that it welcomes all donations and reminded citizens who wish to contribute that they can do so at its Head Office at Thomas Lands between 09:00h and 15:00h daily while cash and cheques can be deposited to its Republic Bank Account 96356519938.