…to face "full force of the law" – Police
Three litterbugs including a businessman who owns a store in the city were arrested by the City Constabulary on Monday afternoon and handed over to the Guyana Police Force for dumping garbage in the city. This comes just one day after a major clean-up exercise was executed in Georgetown led by President Dr Irfaan Ali.
Police said that video surveillance cameras on Robb Street, Georgetown, were used to identify one of the men.
These arrests came on the heels of Police announcing that they were looking for the perpetrator(s) who dumped garbage along Durey Lane, Campbellville, Georgetown.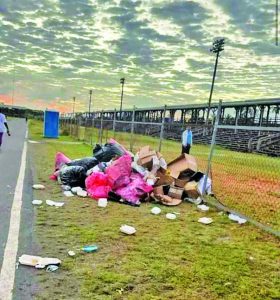 An investigation was conducted including the reviewing of CCTV cameras, aimed at identifying the person or persons responsible.
On Monday morning after making the announcement, the Police Force said a quantity of garbage was dumped at Durban Park, Georgetown, just two days after the major clean-up exercise.
The Police said they are cautioning members of the public that it is unlawful to be dumping garbage in the city of Georgetown and its environs, and anyone found doing so will face the "full force of the law".
Additionally, Local Government and Regional Development Minister, Nigel Dharamlall in a social media post, pleaded with citizens to report persons found littering.
"We are requesting that you report anyone who is littering in any part of the country. We have to take a collective stand as Guyanese to get rid of the nuisance and unethical behaviour of some people. Report Report Report. 600-8868 is my number. WhatsApp the info and pics/videos if possible," he said.
In an effort to restore Georgetown to its former glory as the "Garden City", President Ali, over the weekend, led a massive clean-up exercise during which he announced plans to install security cameras coupled with increased Police presence at several known unauthorised dump sites across the city to prevent the illegal disposal of garbage.
The two-day activity, dubbed "Operation Clean-Up", also saw Prime Minister, Brigadier (retired) Mark Phillips; Chief of Staff of the GDF, Brigadier Godfrey Bess, Police Commissioner Nigel Hoppie, Cabinet Members, members of the diplomatic community, Private Sector bodies and entities and representatives of civil society playing their part on site.
More than two dozen unauthorised dumpsites in 13 communities around Georgetown were targeted during the two-day city-wide clean-up exercise. (G9)