…hailed for work in rebuilding Private Sector from ground up
Philanthropist and renowned businessman of Guyana, Dr Yesu Persaud, whose contributions to Guyana spanned two centuries, has died at age 93. And with his passing, tributes have come from all corners of Guyana including from the very organisations he founded.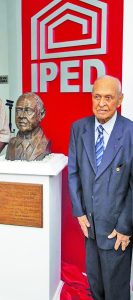 His passing was announced on Sunday evening. Dr Persaud, a Chartered Accountant by profession, is the former Chairman of the Demerara Distillers Limited (DDL). In a statement on his passing, DDL praised his revolutionary initiatives that established the distiller known today.
"The DDL we know today owes a great debt of gratitude to Yesu Persaud, for his bold and imaginative leadership for over four decades. Present and future generations of employees are and will be thankful for the strong foundation that he has built to make our company succeed," DDL said.
"We will forever be appreciative for the career opportunities we enjoy today, which are all possible because of the carefully constructed foundation designed by a master architect, the late Dr Yesu Persaud.
It was noted that during his years at DDL, Dr Persaud led from the front when it comes to innovation, modernisation and diversification – all while displaying both humility and understanding and exacting discipline, honesty and productivity from his staff. DDL also described him as a champion for the causes of employees, customers and shareholders.
"One of the things we will always remember about Dr Persaud is his unending philanthropy. DDL's journey over the years was not without its challenges, particularly in its early years. However, Dr Persaud's leadership was robust and exemplary."
"As we mourn Dr Persaud's passing, DDL will continue to draw on the life of this national treasure; his unmatched approach to governance, and his staunch commitment to doing what is right," DDL said, going on to extend condolences to Dr Persaud's wife, children and his loved ones.
IPED
The Institute of Private Enterprise Development (IPED) was another brainchild of Dr Yesu Persaud, born from the economic challenges of the 1970s and 80s under the then Forbes Burnham Government.
With the opening up of the economy under then President Hugh Desmond Hoyte, IPED was conceived as a means of helping to rebuild the Private Sector from the ground up. It has since gone on to provide loans and support to thousands of Guyanese businesses. In a statement on Monday, IPED mourned the loss of its founder.
"The entire IPED family mourns the passing of Dr Yesu Persaud CCH, our founder, leader, mentor, guide and friend. While Dr Persaud's achievements as a business executive, and as a person, make for an astonishing list, in the IPED family he will be mostly remembered for his vision that led to the direct transformation of thousands of families all across Guyana."
"In the most difficult of times Dr Persaud understood that it was necessary to find ways to recreate and nurture small and micro businesses in the country. While his business acumen is unchallenged, Dr Persaud's greatest desire was to help people to help themselves," IPED also said.
According to IPED, Dr Persaud has left a thriving institute that has a network of almost 5000 small and micro enterprises in existence today… all of which are themselves sustainable. According to the institute, these businesses today embody Dr Persaud's vision for the Private Sector.
"As we extend our sincerest heartfelt condolences to his immediate family, they can be assured that Dr Yesu Persaud will forever be alive in businesses across the length and breadth of Guyana, with future generations paying tribute to him long after this generation, like him, falls silent," the Board, Management, and staff of IPED said in their statement.
Dr Persaud was known over the course of his life for his many wise and profitable investments and for conceptualising and building of key institutions that now serve Guyana's banking and financial sectors well.
Dr Persaud, who was the founder of Demerara Bank, was also the former Chairman of Trust Company (Guyana) Limited, Institute of Private Enterprise Development (IPED), and Diamond Fire & General Insurance Inc.
Some highlights include his service as Executive Chairman of Diamond Liquors Limited and the Managing Director of Demerara Sugar Company. He is being credited with achieving a business miracle with regards to DDL which stands out in the economic history of Guyana.
Nationally, Dr Persaud was awarded with the Golden Arrow of Achievement in 2018 for his works in developing and expanding the Distilling Industry in Guyana and the Cacique Crown of Honour for development of new industries.
Internationally, Dr Persaud has also received several awards including the Pepsi Cola International-Slice, the Gandhi Organisation Plaque, the inaugural Indo Male Lifetime Award and the Glory of India Award and Certificate of Excellence. (G3)