Essequibo businessman, Parmeshwar "Joe" Jagmohan on Sunday donated a bus to the Hampton Court Hari Dwar Mandir as a form of giving back to his hometown.
During the handing over ceremony, the businessman related that he always had a passion for community development, and has, over the years, looked at various ways in which he could improve the lives of residents of not just his community but other villages along the Essequibo Coast.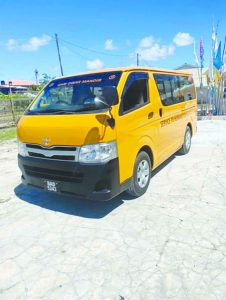 "The donation of the bus is not only donated to Hampton Court mandir but other mandirs can use it… It's also not only for the Hindu religion but also for others… I'm trying my best to give back to my community and residents of Region Two as long as I can afford," the kind businessman said
Jagmohan added that the mandir had been a school for him while he was growing, up the leaders taught him ethics, values, morality, cultural music, dance, and more so, the teachings of Hinduism.
He further noted that the teaching he received motivated him to give back to the temple.
"For the last two decades, we have spent a lot of time developing the mandir, adding infrastructure so that the place can have better facilities and be more organised. We sponsor quite a lot of events, programmes for Hindi teaching and others in the culture."
"I see they are struggling when it comes to transportation so that's why I chose to donate a bus to the mandir… Also, the bus is not only for the Hindu society but also for the other religions," he said.
Also, during the handing over, the businessman donated stationery to the children, textbooks to several primary schools, drums, and monetary contributions to nursery schools along the coast.
Meanwhile, back in December, the businessman handed over the key to a brand-new home to an elder woman battling with prolonged illness. The handover was made in memory of his mother who passed away in 2021.