Fifty-seven-year-old Clayton Allen of South Better Hope, East Coast Demerara, the proprietor of Micro Business Developers and Consultancy Company, was on Friday sentenced to 36 months' imprisonment by Magistrate Leron Daly for forging several cheques to the total value of $26 million.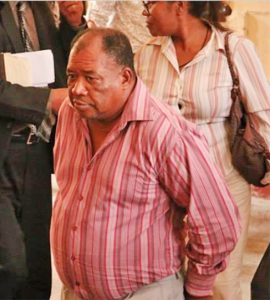 The magistrate found Allen guilty after a lengthy trial at the Georgetown Magistrates' Courts.
Allen was initially charged with the offence of falsely obtaining $26 million worth of motor vehicles from Jeetendra Ram of Fantasy Auto Sales between December 2 and December 13, 2016 by forging a Republic Bank Ltd manager's cheque in favour of Fantasy Auto Sales.
The prosecution is contending that, during that period, the parties had entered into an agreement of sale which stated that Allen would purchase six motor cars from the virtual complainant, and that he would use a manager's cheque to compensate the large sum.
According to the facts presented, when Ram decided to cash the cheque, he realized that it was forged.
The matter was reported to the Police, and Allen was charged with the offence.
In October 2017, Allen was slapped with several additional fraud charges. Prior to those charges, he was sentenced to 46 months' imprisonment by Magistrate Judy Latchman, after she had found him guilty of defrauding Kizzy Shepherd of $415,000 by falsely pretending that he was in a position to grant her a $3.4 million loan between November 3, 2016 and February 8, 2017, knowing same to be false.
Allen was subsequently granted bail after he appealed the matter.