One butcher attempted to butcher another butcher in a violent altercation that occurred on Monday at Georgetown's Bourda Market, and one man has been hospitalized following that stabbing incident.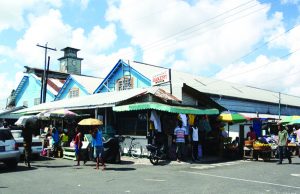 Reports are that during a heated argument which erupted between the two butchers in the vicinity of the Hack's Butchery inside the Bourda Market at about 08:00 hrs on Monday, one of the butchers grabbed a knife and stabbed the other, even as traumatized patrons looked on helplessly.
This newspaper was told that after he was stabbed, the injured man was rushed to the Georgetown Public Hospital in an unconscious state. His identity has not been disclosed to this publication; and late Monday afternoon, two senior ranks of the Guyana Police Force indicated that they were not aware of the incident. Hospital sources have, however, confirmed that the injured butcher is a patient at that facility.