Nursery school teacher Carlotta James, called Abigail, of Lot 27, Middle Walk, Buxton, East Coast Demerara, died after the car she was driving, PHH 67, slammed into the back of a lorry along the Good Hope Public Road, ECD at about 02:00h on Saturday.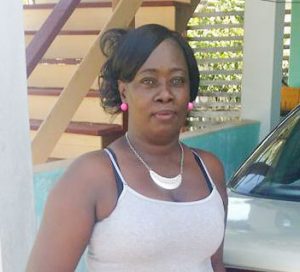 The driver of motor lorry GPP 143, a 31-year-old resident of Mahaicony, ECD, reportedly told investigators that he had slowed down the vehicle and had indicated he was about to turn south across the Good Hope public road when the car being driven by the 45-year-old James, proceeding east along the northern side of the Good Hope road behind the motor lorry, ran into his rear.
Initially pinned in her vehicle, James was subsequently removed therefrom, placed in a Police pickup, and rushed to the Georgetown Public Hospital, where she was pronounced dead on arrival.
James's niece, Melissa Younge, said she was returning from the airport at about 02:07h and was stopped by the Police at Good Hope. She exited the minibus in which she was travelling and discovered her aunt's car plastered to the back of a truck.
"We went to see if she was in the vehicle but the car was empty, and I saw the blood and the damages and her wig. A guy told me that he was from Golden Grove and he was passing and he saw the accident, so he went to render assistance. He said she was holding his hand and staring at him, but he don't know is who she was, so he couldn't contact nobody.
"The Police (were) there and I gave him the information and I called my other aunts and told them what (had) happened, and I went home," Younge detailed.
She said her aunt had left earlier in the day to go to the Dorcas Club Nursery at Plaisance, ECD, where she had been head teacher, and she cannot tell where else her aunt had gone afterwards.
"I didn't go to the hospital, I saw a guy with the Police and I was looking for her bag and so on. The truck driver was about to tell me what (had) happened and the Police told him to 'Shut up," she added.
The Police have said the lorry driver was subjected to a breathalyser test and it is certain he was not under the influence. He is presently in Police custody assisting with investigations.