Digicel's Schools Football Championship…
A brace from Buxton's attacking midfielder Ablamy Roberts was enough to seal the Region 4 title for his team, as they beat Friendship Secondary 4-1.
The East Coast Demerara winners (Buxton) came up against the East Bank Demerara champs (Friendship) at the Ministry of Education ground on Carifesta Avenue as the Digicel Regional Finals continued on Sunday.
Playing on a swampy ground, it was tough going for both teams as they struggled to string together accurate passes and plays. However, Buxton settled into the game quicker than their rivals, and scored twice in two minutes to seize an early advantage.
The first goal came through a defensive error, as Roberts nicked the ball from a Friendship defender and stole through on goal to slot home in the 5th minute.
The pint-sized Adio McAlmont added a second for Buxton when he curled the ball beyond the Friendship custodian to cement his side's lead in the 7th minute.
However as the first half wore on, Friendship began to defend better, and even managed to create a few chances of their own, which the forwards failed to capitalize on.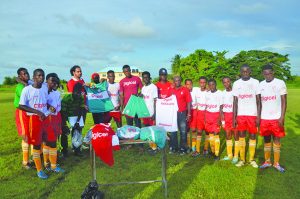 Friendship's winger Jamal Scott remained a threat, and showed good awareness to take the ball from a defender, negotiate a way around the sprawling keeper, and calmly pass the ball into the net to haul one back for his team.
Both sides began to tire as the half wore on, and they were both relieved when the referee blew the whistle to signal the end of first half with the score at 2-1.
The EBD side came out determined to attack, but their passing let them down; and as the game wore on, the visibly tired players began to make minor errors, none bigger than a Buxton defender's mindless two-foot challenge in his own goal area on a Friendship player, to concede a penalty.
Up stepped Scott, who struck the ball directly into the keeper's lap, to the relief of the Buxton players.
The rest of the game was all about Buxton, who endured the tiring conditions to seal the game in the final 10 minutes.
Friendship's goalie Prince Forde produced 5 consecutive saves to single-handedly keep his team from conceding; but his resistance was futile, as Ablamy Roberts got his second with a well-hit strike from outside the box in the 79th minute to make it 3-1 in favour of his side.
Three minutes later, Kifambo Goodman added his name to the score-sheet to put the game beyond a tired Friendship side.