– as juniors rise to the occasion
Compton Caesar is now "the undisputed Sprint King" of Guyana, having dominated the Men's 100-metres' final in the evening session on day one of the National Senior Athletics Championships.
With a time of 10.32s, Caesar dethroned last year's winner Rupert Perry, who came in third in 10.48s. Emanuel Archibald (Police) placed second in 10.36s.
The CARIFTA and South American U-20 gold medallist had a sluggish start, but got into his stride on the back stretch of the track and powered his way to victory.
In the women's 100-metres' final, veteran athlete Alisha Fortune was disqualified after successive false starts.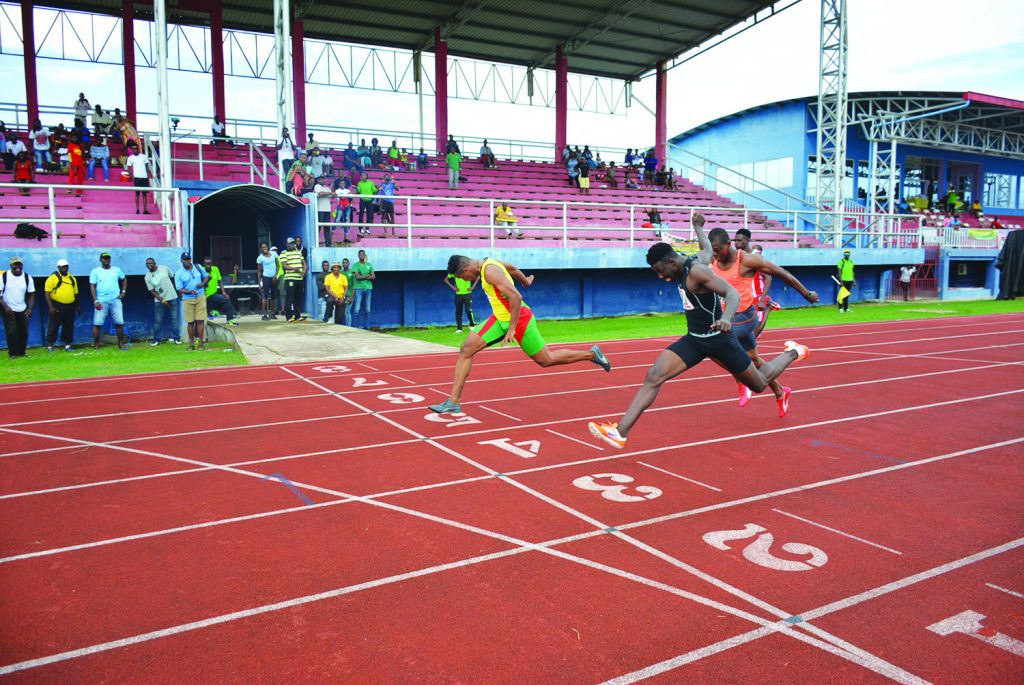 The growing rivalry between Onasha Rogers and Kenisha Phillips took another turn when Phillips clocked her personal best time of 11.74s to edge Rogers (11.77s) into second place and Toyan Raymond (12.24s) into third en route to claiming gold.
It took all of Phillips's effort to hold off Rogers, who faltered in the last quarter of her race.
Earlier in the morning, Chantoba Bright continued her dominance of the long jump event by winning gold, even though she did not jump to the best of her ability.
With a jump-assisted jump of 5.97 metres, Bright beat Toyan Raymond (5.38m) into second place and Cindy Fraser (5.38m) into third place.
As action continued with the men's javelin throw, army man Leslain Baird took gold with a huge throw of 73.46m, while Tremaine Beckles copped silver with 60.18m and Police athlete Kleon Spelling bronze with 59.47m.
Claudrice McKoy of Running Braves also carried her South American U-20 form over into the Senior Championships when she clocked 4:45.82s to claim gold in the women's 1500-metre event, ahead of rival Joanna Archer (4:57.23s) and Kezra Murray (4:59.62s) respectively.
Specialist distance runner Winston Missigher overcame a strong challenge from his junior compatriot Anfernee Headecker to win in a time of 4:0.82s. Headecker clocked second in 4:1.85s and Quacy Morian third in 4:18.34s.
Tenesha Cort of the GDF set a new national record in winning gold in the women's javelin throw with a mighty heave of 40.69 metres, while Shuna Vanderstoop came second with 36.17m and Latoya Rodney third with 30.55m.
Emmanuel Archibald, with a distance of 7.53 metres, established his long jump superiority over his rivals by some distance. His closest challengers were Lurex Stewart in second with 6.83m and Lloyd McCurdy in third with 6.67m.
In the afternoon session, Alita Moore held off Avon Samuels to cop gold in the women's 400-metres' final. Moore recorded a time of 55.71s in a race that she led from the start, while Samuels came in second with 56.31s.
Another CARIFTA and South American U-20 medallist, Daniel Williams, fought off a late challenge from Samuel Lynch to claim gold in the men's 400-metres' final. Williams, who led the race from the start, clocked a time of 48.78s, while Lynch finished second with a personal best time of 49.50s, and Darren Henry came in third in 49.63s.
In the female shotput event, GDF's Tiffany Pilgrim beat her rivals by some distance with a throw of 12.16m. She took gold, while Annesia De Abreu took silver with 10.65m and Sophina Vanderstoop bronze with 10.60m.
In the long-distance events, Tabitha Bowman ran consistently to upset Leyanna Charles in the women's 5000- metre race. Charles, who started the race confidently, began to suffer from cramps and was duly overtaken by Bowman, who never looked back. Bowman finished the race in a time of 21:46s, to beat Delesia Tinnis (23:42.86s) into second place and the unfortunate Charles (23:49.72s) into third.
Winston Missigher totally dominated his second event of the day — the men's 10,000 metres – finishing the event in 33:21.80s, ahead of longtime rival Cleveland Thomas (34:26.51s) and third-placed Colin Mercurius (37:16.28s).
The 4×100 metre relays ended action on the first day. In the women's race, the Police Progressive Youth (PPY) team won in a tight finish against the Running Braves team, with anchor Alita Moore holding her own to finish ahead of Running Braves' Alisha Fortune.
The PPY females finished with an overall time of 48.55s, while the Running Braves quartet finished second in 48.57s.
The PPY males then made it a relay double when they beat the GDF team convincingly in a time of 41.37s to the GDF team's 43.10s overall.
Action will resume at 11:00hrs today at the Leonora National Track and Field Facility, where the highly anticipated male and female 200-metres' races are slated for the afternoon session.