Farmers and residents in several sections of Canal Number One Polder, West Bank Demerara and areas in Mahaicony, Region Five (Mahaica-Berbice) are presently experiencing flooding as the intermittent weather patterns continue across the country.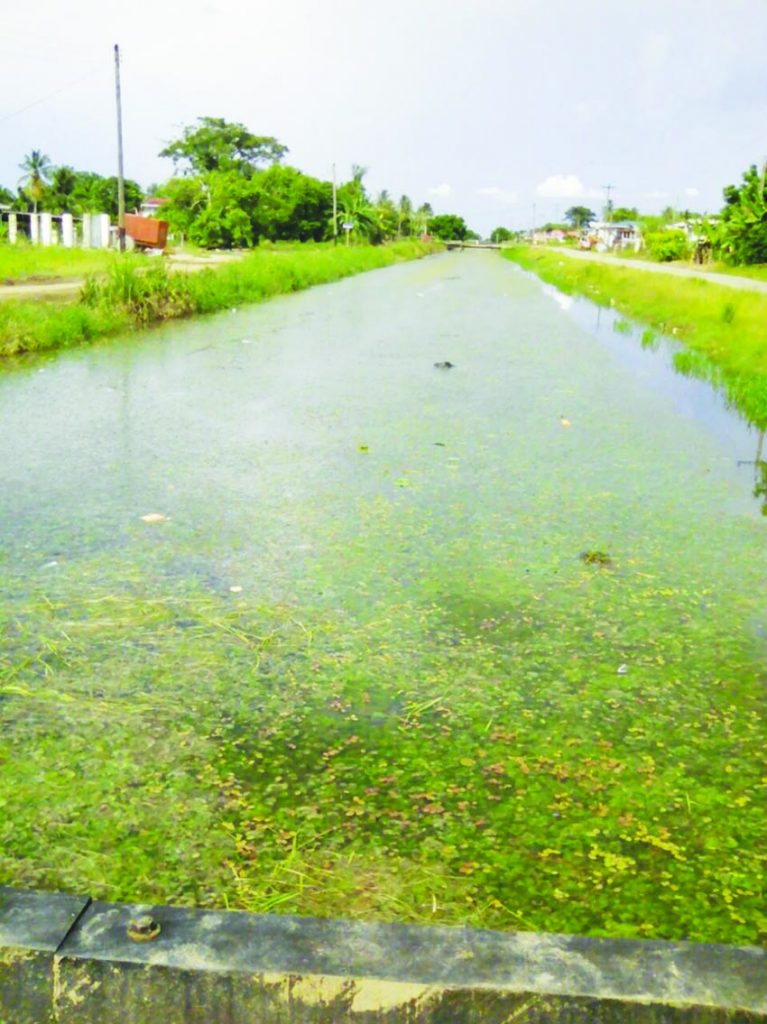 Canal No.1 flooded
As has occurred in Canal Number Two Polder, farmers and residents living in back sections of Canal Number One Polder have reported being affected by flood waters for weeks. A Sans Souci cash crop farmer explained on Sunday that many of the back dams are flooded, covering much of his produce. He explained that the canal is overgrown with marine vegetation and this is hindering the water from rapidly receding from the land. Several pear plants and pine farms are under threat.
Branch Road, Mahaicony
The flood situation in villages along Branch Road, Mahaicony, ECD is threatening the livelihoods of farmers. Former rice farmer Deonarine Sesnarine, whom financial challenges prevented from planting rice last year, said on Sunday that floodwater has inundated the rice lands. He alleged that the Mahaica/Mahaicony/Abary Agricultural Development Authority (MMA-ADA) had for some time stopped maintaining the drains in his area, but restarted clearing them only after onset of the heavy rains.
Guyana Times was told that there was a delay in awarding several contracts for the maintenance of canals in Branch Road, Mahaicony.
Mahaicony Creek
Reports also indicate that floodwater has overtopped dams protecting several Mahaicony Creek communities, and several rice fields have consequently been inundated. And to compound this already bad situation, heavy rainfall has affected the growth rate of cash crops, which would negatively impact the financial situation of farmers.
Earlier in the May-June rainy season, this newspaper had highlighted the high water level in the Mahaicony Creek and disclosed that farmers were fearful that their lands would have been flooded.
Canal No.2 farmers
suffer losses
Guyana Times has also reported the flood situation in Canal Number Two Polder, where farmers have incurred millions of dollars in losses due to flood water remaining on the land for over a week.
Like Canal Number One, the back sections of the canal in this community had not been cleared of overgrown marine vegetation, and the resultant flooding, exacerbated by days of heavy rainfall, lasted for several days.
South Section cash crop farmer Dookie (only name) had only last week indicated that the fresh flood water, recognized by its dark colour, had emerged from the backlands. He and others had suggested that this was excess water from the conservancy that had spilled over into the backlands and flowed downwards.
Dookie had indicated that some 200 plants of the pear crop he had planted just 15 months ago were threatened. He had also explained that it was only weeks previously that he had invested approximately $1 million to excavate his drains in preparation for the heavy rainfall, but his peppers and pak-choy were all destroyed.
Many of the farmers in flood-affected communities have blamed the local Neighbourhood Democratic Council and the Regional Democratic Council for ignoring their numerous complaints. Guyana Times has reported that the flooding could have been avoided if the National Procurement and Tender Administration Board (NPTAB) had facilitated the contract being awarded for drainage works in the area earlier on.