Camille's Academy in collaboration with Action Invest Caribbean Incorporated, on Saturday hosted its inaugural fitness expo and health fair event, with the sole aim of fostering both physical and mental fitness among students so as to boost academic achievements.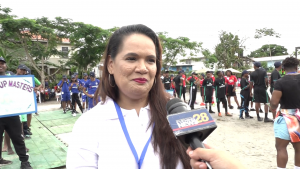 Being the first of its kind, the event saw the attendance of members from the Guyana Bodybuilding and Fitness Federation (GABBFF), Soca sensation and fitness instructor, Vanilla among other persons.
Representative and business coach of Action Invest, Keon Smith in speaking with Guyana Times, expounded that the partnership event takes on a more fun-oriented approach towards education and the schooling environment, but at the same time teaches students the importance of physical health.
"What we've decided to do is to build a holistic schooling environment for the young and the future leaders of Guyana. This fitness expo is one of the first and its gonna be an annual event that we're gonna use to showcase not only the fitness aspect of the students but also on display [are] their academic achievements…and is looking to create different ways to make education fun," Smith asserted.
Meanwhile, Managing Director of the institution, Camille Deokie in brief comments on the event, posited that improvements to oneself begin with a healthy lifestyle, and this is the backdrop for which the event is hosted.
"A lot of studies would've revealed that once kids live healthier they will be smarter, so for me, directly and indirectly, will improve lives…it will even impact of academic results and people's lifestyles in general and all the ambassadors today is basically with one mindset and that is if we really want to improve our results we have to go healthier" the Director asserted.
Parents and students came out in numbers at the event, to enjoy organised activities including an official marching exercise, an award ceremony, a fitness competition which is built around the normal exercises covered in the subject of physical education (PE), all of which complemented the items on exhibition at the booths in the areas of cohesion, environmental health as well as tourism.