Petra/Corona Football Tournament…
– Police start as favourites against Beacon
Georgetown Football Club (GFC) will host Campton FC today at their Bourda location but could face a stern test in their first outing in the exciting Petra Organised Corona Football Tournament.
GFC have been out of competitive football for close to a year and will meet one of Georgetown's seasoned campaigners. Led by Captain Jean-Paul Bonse, the team includes a number of youthful players such as Curtez Kellman and Ralphino Paris who have the talent and finest to inspire a positive result for their side.
On the other hand, Campton, well known for their determined and sometimes flamboyant play are going through a rebuilding phase which means the likes of Anthony Sancho, Azuma Small and former national midfielder Troy Prescod will have to offer the fight against a well-organise GFC when their encounter gets underway from 19:00 hrs.
Meanwhile, Police FC will look to make their clash against Beacons FC a fruitful one when action starts at 21:00 hrs. The lawmen have been a dominant force in Georgetown Football over the last three years led by a talented trio of Quincy Holder, Junior Gordon and Dwain Jacobs.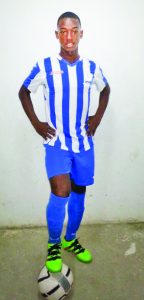 For Beacon, a draw will be a confidence booster given their abysmal performance in the Georgetown Football Association League.
The other match of the triple-header which kicks off at 17:00 hrs will between Western Tigers and Black Pearl FC. The Tigers are widely known for their tenacity and will look to Devon Millington and Andrew Murray Jr to help them roar. Much is still to be seen of Black Pearl Unit after they were one of the teams to graduate into the GFA Premier League.
The tournament is being played on a round-robin knock-out phase where there will be two groups of six teams. The top four from the respective group will advance to the knock-out phase.
The teams are playing for first place prize of one million dollars and championship trophy while second to fourth will pocket $400,000, $200,000 and $100,000 respectively and the corresponding accolade.