Lethem businessmen complain
–
Partial Scope Agreement's implementation stymied
Region Nine (Upper Takutu-Upper Essequibo) is a region known for its aesthetic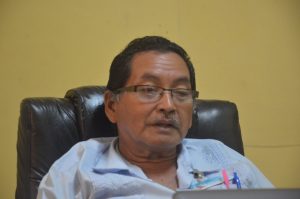 beauty and its rodeo. But life for residents is tough and a sit down with members of the business community reveals that that region is in the grip of an economic slowdown not dissimilar to other parts of Guyana.
A prevailing concern among business people interviewed by this publication was the sloth in commerce. According to one businessman, there are a myriad of troubles being faced by persons in the community.
"Right now business slow," one businessman elucidated. "Things aren't going the way it used to. And I would like if they could look into this community and put some more interest and attention to what is going on for the last two years."
The businessman also expressed concern over the state of the roads and drainage in the community. He noted that there is currently a lot of rain and with it comes drainage problems. He identified central Tabatinga and Lethem as some of the worse areas.
"(I) definitely feel neglected," he said. "That's the story of what's going on right now within the society.
The businessman also revealed that there has never been a community meeting hosted by members of the regional administration or central government, which would have edified residents about the steps being taken.
Meanwhile, another businessman echoed these sentiments, noting that "things have slowed up" in the region. He too observed that consumers are no longer buying like they used to.
Local trade
Meanwhile, Region Nine Chairman Bryan Allicock explained that there are deficiencies regarding local produce and quality control. According to the Chairman, entrepreneurs and farmers have to contend with competition from across the border.
"I went to visit farmers. They have a lot of plantains but they can't get it sell because the plantain coming from Brazil is cheaper. And so when they carry it, the businessmen say, 'oh I bought plantains already'. The businessmen go quickly over there because it's cheaper and readily available. Businessmen always want their supermarkets replenished with items. And when they can't get it they go over there."
"I had an experiment with the plantains from Brazil and here. When you fry it and put it on, the plantains from Brazil get hard very quickly in comparison to our Guyanese plantain. But we can't really control that at the moment unless the farmers can guarantee us that they have a year round supply," he commented.
He revealed that they had requested the farmers up their production as one measure to increase commerce. In addition, he said requests have been made of supermarkets to buy local. But this can only be ensured once assurances can be provided of a ready local supply.
"So we have products, but we have to put our systems in place to ensure quality control so we can export over there. And we are hoping to get it soon, so our produce can go over there."
Back in 2001, an Economic Complementation Agreement (Partial Scope Agreement) was signed between Guyana and Brazil. According to the terms of the agreement, tariff preferences and exemption from the surcharge of freight would be granted.
These products had included meat and fish, fruit and vegetables, cassava and plantain flour, peanuts, tea bush, cane sugar and rum. Other items had included tableware, machinery and parts and furniture fittings.
But Opposition Member of Parliament, Allister Charlie, in an interview with this publication noted that at present, this agreement is not functioning as it should. He too agreed that competition with Brazil was an issue.
"There are 200 plus items that do not attract the tax. And it is not in effect at this time. I recently saw the Government saying (they would) do an importation of items to grow here, which is very good, because we know we are productive and we have the land."
"But the problem that is bothering us is production," Charlie said. "We have the quality but we don't have the quantum to sustain the markets."