Petra/ Corona Football Tournament…
– Police, Western Tigers obliterate opponents
The Petra Organised Corona Football Tournament continued on Wednesday evening and soggy conditions did not hamper a flurry of goals as 29 were scored in the three matches held at the Georgetown Football Club (GFC), Bourda.
The upset of the night was Camptown's 1-0 win over the host. Ozei Small struck the only goal of the match in the 43rd minute after which his team withstood a barrage of shots of goals by the opposition to secure a vital three points in their opening fixture.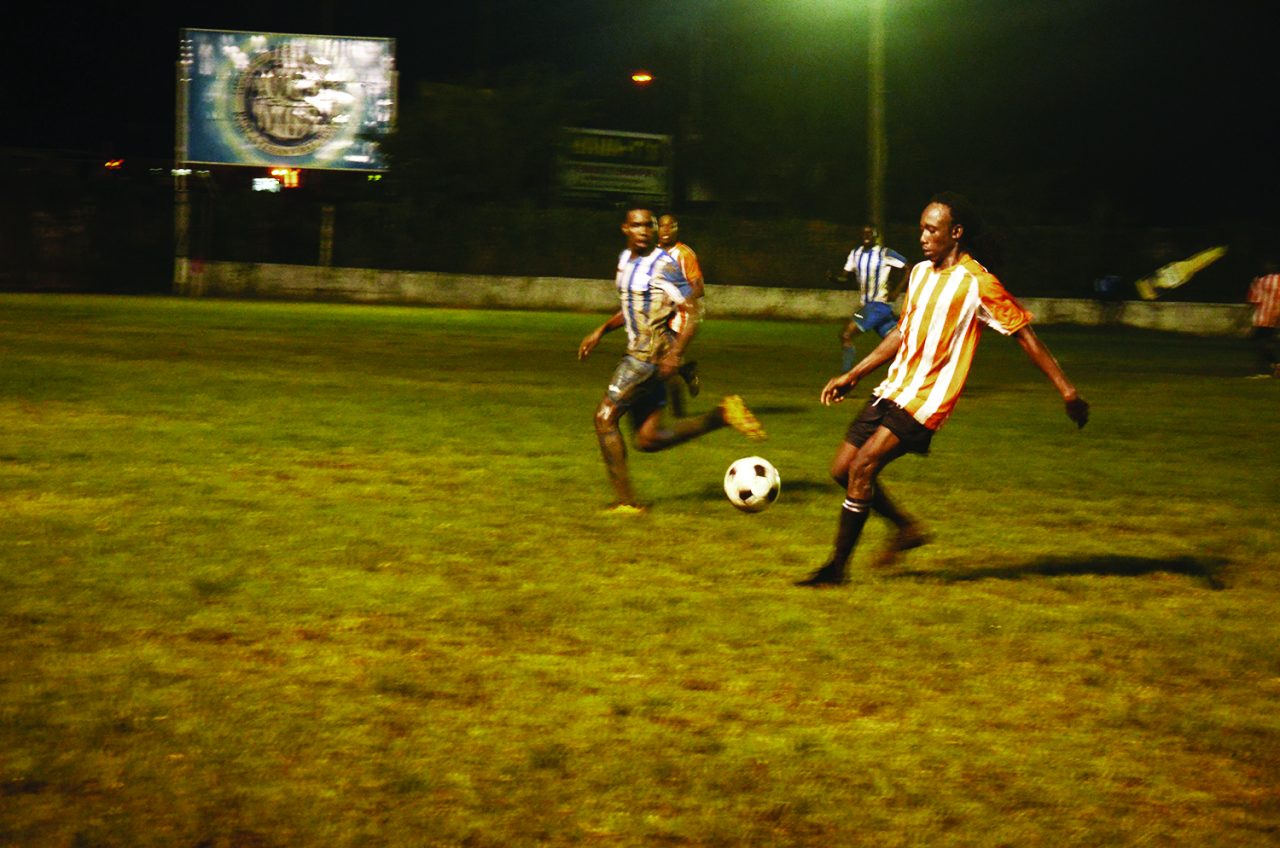 The other two matches were more a one-sided affair, with Police and Western Tigers dominating their opponents.
Police Force FC netted 14 goals in their humiliation of Beacons FC. Quincy Holder helped himself to goals in the 7th, 37th, 39th and 45th minutes while teammate Anthonio Wallace also added strikes in the 21st, 47th, 70th and 78th minutes.
Stephan Ramsey notched up a hat-trick to further doom Beacon with goals in the 34th, 84th and 42nd with teammates Dwain Jacobs adding two in the 72nd, 81st and Jermaine Granderson in the 13th minute.
Beacon's lone goal scorer was Christopher Galloway who netted in the 43rd minute.
In another high scoring game, the Western Tigers mauled new comers Black Pearl FC 13-0.
Tigers' Winger Hubert Pedro opened the scoring in the 3rd minute and added another in the 37th while striker Devon Millington struck in the 10th and 29th minutes.
Andrew Murray Jr would heap further misery on the Black Pearl team with his helmet-trick coming in the 15th, 55nd , 80th and 83rd minutes.
Linden Pickett in the 22nd, Dwayne McLennon in the 33rd and 59th, Mark Gritten 56th and Darren Benjamin in the 79th were the other goal scorers for the Western Tigers.
The tournament will continue on this evening at the same venue with another triple header commencing at 17:00 hrs. when Pele FC clash with Eastveldt.
At 19:00 hrs. Flamingo will do battle with Santos FC after which the final match will see Northern Rangers against Riddim Squad at 21: 00hrs.
The tournament is being played on a round-robin knock-out phase where there will be two groups of six teams. The top four from the respective group will advance to the knock-out phase.
The teams are playing for first place prize of one million dollars and championship trophy while second to fourth will pocket $400,000, $200,000 and $100,000 respectively and the corresponding accolade.