By Ravi Madholall in Toronto
Veteran batsman Bharrat Lachman has said he is aiming for more success in 2018, after his sterling performance in this year's edition of the Ontario Softball Cricket League's (OSCL's) various competitions.
Having represented several teams over the past decade or so, Lachman emerged the top batsman in the 'B' Division, accumulating 348 runs from 14 games, featuring Carr Tec Sports Club on this occasion.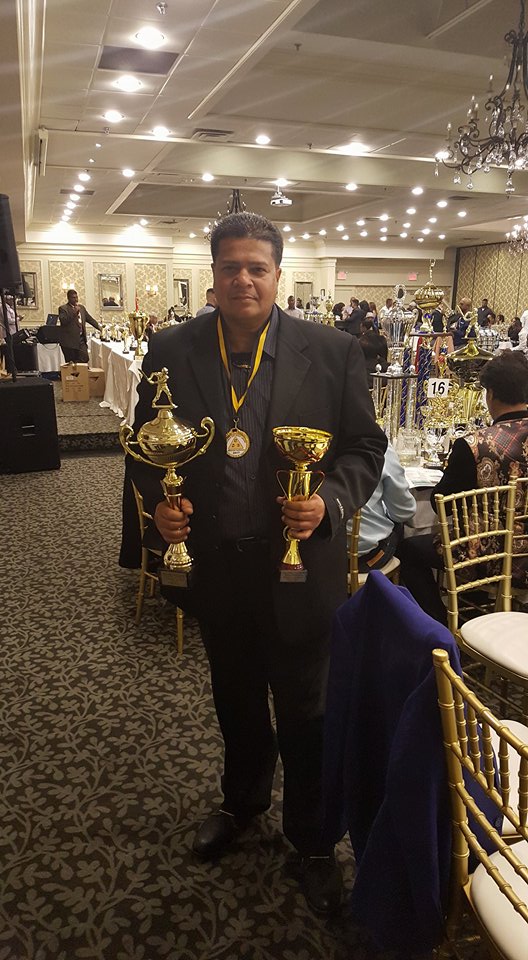 According to the Canada-based Guyanese, his achievement in 2017 was certainly inspiring, and this has given him the confidence to make another impression next year in the colours of Carr Tec.
Despite his age, the 47-year-old right-hander had an impressive flow of runs, and was admirably consistent as he was delighted spectators to score the highest runs of 82.
He related that he had enjoyed his game to the fullest, and had wanted to be the top batsman for both the A and B Divisions.
"I [am] very proud to be the top batsman this year in the OSCL Regular Season 20-over competition, given the fact that a large number of high-quality batsmen played in both divisions. It definitely feels great, and I want to do well again next year," Lachman commented.
Reflecting on the entire season at all three competitions (10, 15 and 20-overs), Lachman, who was born at Stewartville, West Coast Demerara, mentioned that even though he was on the field primarily to play for fun, he took his game very seriously and ensured that his team was always playing for victory.
Carr Tec Sports Club finished at number six out of the 11 participating teams, but they were totally satisfied with their general outing.
"" I think we played to the best of our ability, (being) fully aware that there were more competitive and stronger teams (all wanting) to do well. We planned well, but things just didn't go our way. But I am very optimistic Carr Tec could be in the winning column at the new season," Lachman declared.
Overall, his teammate Suresh Persaud came second, with 270 runs from 14 matches, and that demonstrated his team's level of commitment to churn out good performances.
"Oh yes, that was very special for our team, and I am also happy to know my colleague could have been at the top of the batting list. We will definitely play harder cricketer next year, and it is always a privilege to play the game in Canada," the former West Demerara Under-19 cricketer expressed.
Lachman also took the opportunity to say that he is pleased to see the growth of cricket in Canada, both hard and softball, and is very thankful to the organizers to be dedicated and dynamic to make it happen.
"It's getting more competitive over the past few years, and it is also nice to see more youth are involved, especially the Canada-born (ones). I would like to see the use of whiteball in one of the OSCL annual competitions," Lachman asserted.