James Lewis Organized KO Tourney
On the back of a solid batting display CARICOM claimed the Ministry of Presidency Trophy over Guyoil on Sunday in the James Lewis organized Ministry of Foreign Affairs Knock Out Tape ball tournament.
Played at the National Cultural Centre Tarmac, CARICOM got the better of their opponents by 52 runs in the six- over affair.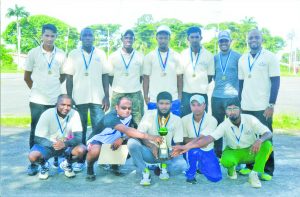 Batting first CARICOM blasted 103-3 in their quotas of overs, with Imran Abdool (31) being the principal scorer. Guyoil in return were restricted to 51-4 from six overs as Sherwin Burnette snatched two wickets.
Abdool won the prize for the highest score in the final while Burnett walked away with the accolade for most wickets in the said match.
In earlier matches, CARICOM defeated Ministry of Agriculture by eight wickets. CARICOM successfully chased 34 for victory losing just two wickets as they finished on 36-2 in 4 overs. Burnette captured 4-13 when Ministry of Agriculture batted first to score 33-6.
In the other semifinal match Guyoil defeated Craig NDC to advance to the final.