Increased rainfall in Linden, Region 10 (Upper Demerara-Berbice) on Monday resulted in flooding of the Central Mackenzie area and other areas prone to flooding, including Silvertown and Second Alley.
At Central Mackenzie, which is considered the main shopping centre within the township, vendors and residents were observed wading through floodwaters as rainfall which commenced sometime after 10:00hrs lasted up to a few hours. Over at the Mackenzie Market, vendors complained of consistent flooding during such times, as some rushed to conceal their products and produce to protect them from the rain. In some cases, stalls and stores were flooded.
Vegetable vendor Eddy Edwards, who sells along the Republic Avenue roadway pointed to a culvert nearby which he claims is one of the main sources of the flood at the particular location. As such, he called on the authorities to re-examine culverts along the Republic Avenue roadway.
"Here is where the culvert is and the culvert is too small to take off the amount of water…These culverts want changing. It is too small and they need to have a proper outlet to the river…We are very much affected. The water is a problem every time the rain fall, and even if the rain fall the water is still here. So it's very stressful for every vendor here every time the rain falls," Edwards said.
The vendor also called on the authorities to re-examine the drainage systems at the location.
"They need to clear these drains properly. As long as it's cleared we don't have a problem, the water will pull off, but this culvert is a main problem", he stated.
The culvert the vendor was referring to is situated in the vicinity of the Republic Bank, which compound was also flooded.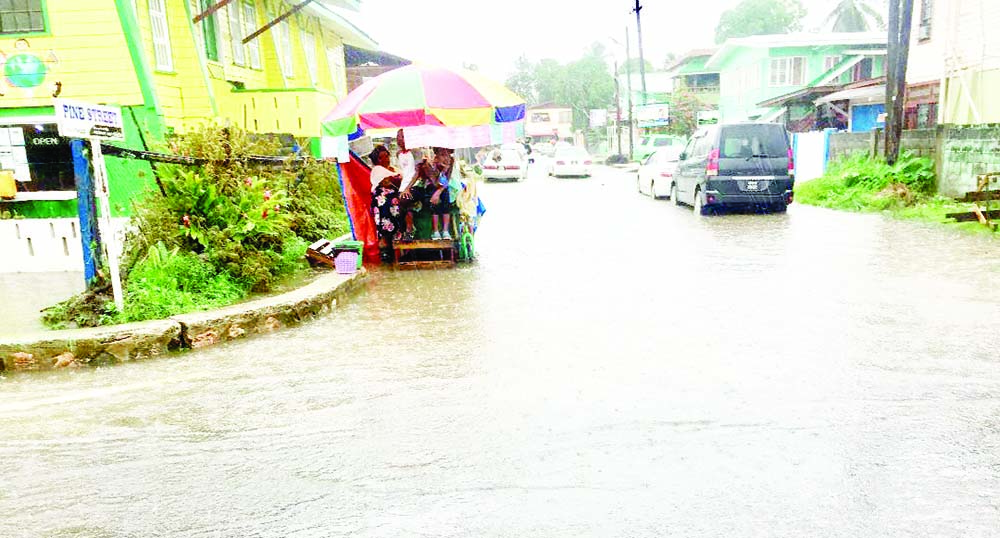 Linden Mayor Waneka Arrindell when contacted noted that while the area does not fall under the remit of the Linden Mayor and Town Council (LM&TC), the municipality is making effort to seek assistance for those affected.
"There are consistent blockages in those areas. It's more under the RDC (Regional Democratic Council), not necessarily the Mayor and Town Council…It's a RDC project…That area does flood in heavy rainfall but there's a easy flow-off after the rain has stopped. But I do know that the Council, while we don't have jurisdiction, we are collecting the names of areas that have been flooded to make sure we send down to the Ministry of Communities for any support we can get within the township," the mayor said.
Regional Chairman Deron Adams in a statement said he has assessed the situation and will mobilize to assist several communities across Linden to provide assistance to flood- prone areas.
"I was on the ground and our office will continue to monitor the situation in several communities across Linden which have been affected by flooding as a result of the heavy rain earlier today. I've been in contact with the CDC (Civil Defense Commission) and NDIA (National Drainage and Irrigation Authority), the Mayor and other officials. It is my hope that we will quickly be able to bring relief to those families that are affected. I hope that the Government will deploy very quickly emergency apparatus to help those affected", he noted. (Utamu Belle)