Essequibo power outages
…fluctuation continues
After nine days of power outage, residents of the Pomeroon-Supenaam community of Charity (Region Two) are breathing a sense of relief at having received electricity, compliments of a generator installed in the community by the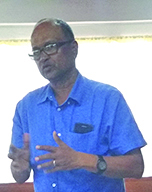 Guyana Power and Light (GPL), to bring temporary relief to residents.
Charity residents had been left without electricity since June 7, when the generator sets at the Anna Regina Power Station developed mechanical problems.
According to Elwin Marshall, the GPL Deputy Chief Executive Officer responsible for technical matters, the company will be moving two of its units from Fairfield to the Anna Regina area. He explained that the communities stretching from Supenaam to La Union are supplied electricity in 60 cycles and the company is tasked with converting the south feeders into 60-cycle receptors. That feeder, he explained, will be fed by three units, two of which have been sourced from the Fairfield area.
He explained that the 50-cycle receptors are currently under maintenance, and the Wärtsilä Caterpillar set is currently supplying the North West feeder. Once the maintenance is completed, expectedly by Saturday, the affected communities are expected to enjoy a regular supply of electricity.
At the moment, a 'Wärtsilä 2' plant has been switched on to provide power to the Charity areas, but even as this is happening, several other sections of the Essequibo Coast are without electricity, Marshall explained.
The power company plans to dispatch to the Essequibo Coast three electricity-generating units each having the capacity to supply 5.1 megahertz of power. The power from those units will be solar-generated, but the units are designed to generate power from either solar or wind.
Marshall has said that because of the current situation Region Two is experiencing, the company would be speeding up the process for an early commissioning of these 3 units.
The company is also exploring the possibility of converting rice husk into fuel for power-generation.
Suffering
Representing the Essequibo Coast in general, Chairman of the Essequibo Chambers of Commerce (ECC), Deleep Singh, said residents have for too long suffered because of the power outages. He, however, expressed gratitude to the company for providing the region with power after a long time. He said residents cannot 'live' without power for long, as many businesses depend on it for their survival.
"When the current is off, everything goes: internet, water, banking services, everything! Everything shut down! We can't afford this," Singh expressed.
He said the ECC will be monitoring the situation and will be making the necessary recommendations; and if the trend continues, a picketing exercise will be organized and the intervention of Central Government will be sought. (Indrawattie Natram)