…neighbour rescues elderly man, children from burning building
A 65-year-old man who is unable to walk after suffering from a stroke and his four young grandchildren were on Wednesday morning rescued by a neighbour who noticed that their home was on fire.
At time of the midmorning fire at Blairmont, Region Five (Mahaica/Berbice), the children's parents were not at home. 22-year-old Sumrire Rumitar had gone to the clinic, while her husband, 28-year-old cane harvester Seeraj Bishunlall, was at work. Immediate neighbours were also not at home.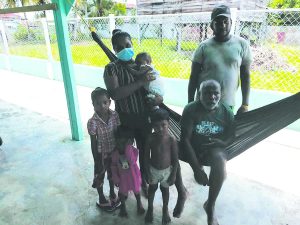 The 65-year-old man was calling for help after he had got to the door and could not make it any further. There was also a three-month-old baby in the burning building, along with three other children, the eldest of whom was five years old.
Kenrick Reid said he saw smoke emanating from the two-bedroom house, and went to render assistance.
Initially, when he saw the smoke, he did not think it might be something he needed to pay attention to, and he went to the back of his yard. When he returned, the smoke was more intense.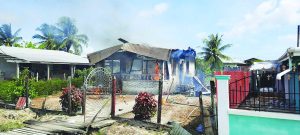 "I run across and reach him just by the door, because he got a stroke and he can't walk, and I hustle to get him out, and while looking for water, I could find no water to out the fire. The fire was only in one room at that time. I was trying, but I could not do better, so I bring him out and put him to sit on the road, and bring out the children," Reid revealed.
According to Rumitar, she had gone to the health centre for a vaccine, and after receiving a message that her house was on fire, she ran out of the Health Centre and got a car to take her home. By the time she arrived, the building was totally destroyed.
Upon inquiries, she was told by her father-in-law that her five-year-old had informed his grandfather that there was a fire in one of the bedrooms, and the pensioner had tried to raise an alarm.
Meanwhile, her husband Seeraj Bishunlall told this publication that he had completed his chores for the day, and was sitting in the lorry waiting to be transported home when one of his colleagues told him there was a fire at his home.
"An me nah believe, and when me come then me see that the house bun down," he explained in his own way.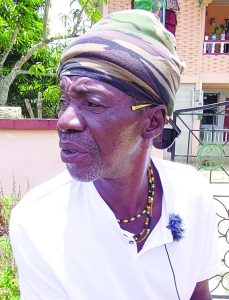 Meanwhile, in a release, the Guyana Fire Service said it responded with a fire tender from the Onverwagt Fire Station (GFS), and was assisted by the Blairmont Estate fire jeep.
According to the GFS, the supposed cause of the fire is a child playing with a lighter, which ignited a mattress and spread through the entire building.
According to the release, citizens are being urged to take the necessary precautions to avoid these tragedies.
"Make use of fire prevention and firefighting devices such as smoke detectors and fire extinguishers. If these items cannot be afforded or sourced, ensure there is a bucket of sand or adequate water within reach in the event of a fire. Keep fire starters out of the reach of children, and educate them on the dangers of playing with them. Pay keen attention to children, and be aware of your surroundings," the release said in part.
The release reminded that persons should call the GFS as soon as a fire occurs, noting that this would increase the possibility of extinguishing and containing the fire in a timely manner, as well as prevent the loss of life and/or property.
Meanwhile, Bishunlall has said he does not know where his family would be sleeping tonight. Persons who wish to assist the family can contact them on telephone number (592) 660-7968. (G4)