….leadership vacuum had to be averted
On the heels of criticism from the People's National Congress Reform (PNCR), Attorney General and Legal Affairs Minister Anil Nandlall has defended the appointment of Clifton Hicken as the acting Commissioner of Police by President Dr Irfaan Ali, arguing that with no Leader of the Opposition in place nor a Police Service Commission, there was no one for the Head of State to consult with before making this critical decision.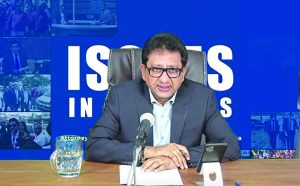 President Ali, who is also the Commander-in-Chief of the Armed Forces, on Monday announced the appointment of Hicken as acting Police Commissioner after Nigel Hoppie, who was also acting as Top Cop, proceeded on pre-retirement leave on Sunday, March 27.
However, objections have been raised by the PNCR – the leading party in the A Partnership for National Unity/Alliance For Change (APNU/AFC) Coalition Opposition, calling the appointment illegal and unconstitutional.
According to the Constitution, "the Commissioner of Police and every Deputy Commissioner of Police shall be appointed by the President acting after meaningful consultation with the Leader of the Opposition and the Chairperson of the Police Service Commission, after the Chairperson has consulted with the other members of the Commission".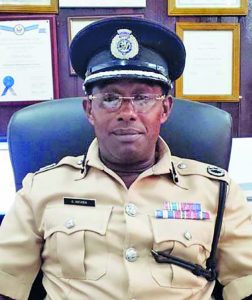 AG Nandlall has pointed out that with these two posts currently vacant, there was no one for the President to consult with.
"It's no fault of the Government or the President that there is no Leader of the Opposition. It's no fault of the Government or the President that there is no Police Service Commission because the appointment of Police Service Commission comes through a process which, again, involves consultations with the Leader of the Opposition, and there is no Leader of the Opposition," he stated during the recent edition of his weekly programme "Issues In the News".
The Attorney General noted that the President was completely justified going ahead with the appointment of a Top Cop in the absence of those he has to consult with since the Guyana Police Force cannot be left headless.
"The Police Commissioner is the person who has overall management and superintendence over the Guyana Police Force. He is responsible for the day-to-day management and superintendence of Guyana Police Force. Therefore, you cannot have a Police Force without a person performing those functions. In that scenario, a President cannot abdicate his responsibility and can't allow the Police Force that is responsible for the national and domestic security of the country to be without an administrative head," the AG stressed.
Against this backdrop, Nandlall contended that provisions in the law, specifically the doctrine of necessity, could be activated to allow for procedures to be undertaken in instances where there is an impossibility to comply with legal requirements.
Since those with whom the President was supposed to consult were not available for consultation, his actions of going ahead with making the appointment would be justified under the doctrine.
"The President is completely justified in proceeding to put someone to perform the functions of the Commissioner of Police. National security and public safety and the need for there to be an administrative head of the [Guyana Police Force] GPF would trump the need for procedural regularity and the doctrine of necessity would justify a departure from what is required by the Constitution in this case, because there is an impossibility in securing constitutional compliance…"
"It cannot be the law that the process would grind to a halt or the country must go without a Commissioner of Police if a recalcitrant Opposition cannot get its house in order and appoint a Leader of the Opposition," Nandlall argued.
Moreover, Nandlall also dismissed threats by the PNC to challenge Hicken's appointment since he was not next in line for the post. But the AG outlined that the President was only required to consult with the Opposition Leader and the PSC, but the choice is his – exclusively – to make.
"The choice of who is to be the Commissioner of Police is one that lies exclusively with the President. In the exercise of that choice, he is to comply with a process… to consult with the Leader of the Opposition, not agree but consult, and to consult with the Chairperson of the Police Service Commission. That has nothing to do with choice. The choice remains that of the President," he insisted.
According to the Attorney General, no one can substitute the President's choice – not even a Judge. He explained that while there could be political consequences based upon the Head of State's choice, there was no legal consequence.
In fact, he further reminded that even then President David Granger had similarly exercised his power to choose when he appointed Leslie James, who was at the time not the most senior officer in the Force, as Police Commissioner.
"But President Granger was entitled to do so, since there is no rule or provision that requires the most senior officer to be chosen as Top Cop," Nandlall stated.
AG Nandlall further pointed out that while the PNC has objected to Hicken's appointment, its coalition partner – the AFC via its Leader Khemraj Ramjattan, who is a former Public Security Minister, seems to have accepted the appointment. He told an online news outlet – Big Smith News Watch – that the Force needed a leader and Hicken would "serve properly".
Hicken's appointment as acting Top Cop took effect on Wednesday, March 30. (G8)