By Chinese Ambassador to Guyana, GUO Haiyan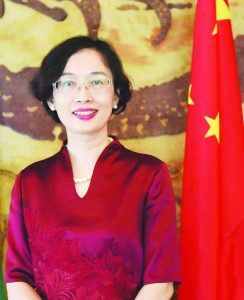 Last weekend, people in China, Guyana and around the world organised various lively New Year's Eve events and exchanged greetings and wishes among friends and family. Some Guyanese friends asked me about the situation of the pandemic in China, and several Guyanese newspapers also paid attention to it. China's recent optimisation and adjustment of COVID response measures, which are rational choices made in light of the latest COVID situation, would significantly contribute to the recovery and growth of the world economy, and facilitate people-to-people exchanges between China and Guyana as well. Here, I would like to make some introductions to you.
Since November 2022, China has adopted the 20 refined measures and 10 new measures to refine its COVID response measures, and announced that, starting from January 8, COVID-19 will be managed with measures of Class B instead of the more serious Class A infectious diseases in accordance with the law.
There will also be provisional cross-border travel rules. For visitors to China, a nucleic acid test within 48 hours before flight departure is still required, but no nucleic test will be mandatory upon arrival and no centralised quarantine will be required. This is another adjustment China has made to its approach based on a comprehensive assessment of the pandemic situation, representing a shift of focus from stemming infections to preventing severe cases and further minimising the impact of COVID-19 on economic and social activities.
Since COVID began, the Chinese Government has always put the people and their lives above all else. We have poured all our efforts and resources into protecting the life and health of every Chinese. From newborn babies just 30 hours old to elderly people over the age of 100, and from international students to other foreign expatriates in the country, every life was equally and fully protected.
Over the past three years, we have effectively responded to five global COVID waves and avoided widespread infections with the original strain and the Delta variant, which are relatively more pathogenic than the other variants. We have greatly reduced the number of severe cases and deaths, and bought precious time for the research, development and application of vaccines and therapeutics, and for getting medical supplies and other resources ready, contributing significantly to global solidarity against the pandemic and to world economic recovery.
Benefiting from the dynamic zero-COVID policy, globally speaking, China has had the lowest rates of infection and mortality over three years. Despite the pandemic, average life expectancy in China went up from 77.3 to 78.2 years. Even when the global Human Development Index dropped for two years straight, China went up six places on the Index. China attached great importance to balancing the COVID response with economic development. China's average economic growth?rate?for 2020 and 2021 was 5.1%, making it one?of the best-performing major economies.
At present, the situation of the pandemic in China has evolved, and the recent optimisation of measures is a rational choice after a comprehensive study and scientific assessment.
First, practices in many countries, including Guyana, have shown that although the Omicron variant is highly transmissible, its mortality rate has been significantly reduced. Experts say that 99% of those infected can fully recover in 7-10 days.
Second, China has built a solid immune barrier. Data show that China has administered 3.4 billion doses of COVID-19 vaccines. To break the number down, 90% of people are fully vaccinated and 86% of those aged 60 and above are fully vaccinated.
Third, China has accumulated a great deal of experience in the fight against the virus and has significantly increased its capabilities in drug development, medical services, and material supplies.
In addition, the Chinese people have gained more confidence against the virus, and are more concerned about their daily lives, work, studies and livelihoods.
Adhering to the "adopting a science-based approach, and taking targeted measures" principle, the focus of China's anti-COVID measures has shifted from stemming infections to preventing severe cases, which reflects the voice of the general public and once again reflects the commitment of putting people and life first.
Countries adjusting the COVID policy would invariably go through a period of adaptation. China is no exception as we shift gears in our COVID policy. Recently, as the number of infections increases, some people have hoarded medicines as a precaution, resulting in some temporary shortages in certain locations. China has now taken various measures to increase the production of key drugs. The daily production capacity of both paracetamol and ibuprofen has reached more than 75 million tablets, which is well catered to the market.
In addition to strengthening drug supply, we have been vigorously promoting the booster shot, with a focus on strengthening the vaccination and health management of senior people. Relevant Chinese departments have worked actively to open more fever clinics, optimise diagnosis and treatment mechanism, and beef up medical resources. We have mobilised as many resources as possible to protect the elderly with underlying health conditions, pregnant and lying-in women, children and other key groups, and made every effort to reduce severe cases and deaths. In a word, China's adjustment of COVID response measures is by no means "lying flat". On the whole, the COVID situation in China remains predictable and under control.
Since the start of COVID-19, China has been sharing relevant information and data in an open and transparent manner with the international community, including the WHO. We shared the genome sequence of the virus at the earliest opportunity, making important contributions to the drug and vaccine research and development in countries around the world. China's relevant departments have shared the genome data of the virus from the latest COVID cases in China via the Global Initiative on Sharing Avian Influenza Data (GISAID). The departments will continue to closely monitor whether the virus would mutate; share information on COVID in a timely, open and transparent manner in accordance with the?law and work with the international community to address the COVID challenge.
The international community has responded positively to China's provisional measures on cross-border travel that will be implemented shortly. American, British, German and other foreign chambers of commerce in China, and most foreign diplomatic missions in China noted that this will clear the way for resumption of people-to-people exchanges and business travels, rebuild foreign investors' confidence in the Chinese market and contribute to restoring optimism and reinstating China as a priority investment destination.
Tourism departments of many countries including Thailand, Australia, New Zealand, Denmark, Norway, Netherlands, Spain, Portugal, Austria and Switzerland warmly welcome Chinese tourists to visit and travel. They have posted on the Chinese social media Weibo that "it has been three years, we miss you".
Recently, our Embassy's Facebook page (Chinese Embassy in Guyana) posted the top 10 happiest cities in China for 2022, and Guyanese friends have been liking and commenting to express their desire to travel to China. I believe that by relying on the pandemic prevention policy that is in line with China's national conditions, and through the united efforts of the whole country and its people, China will be able to quell the pandemic, and normal exchanges between China and Guyana will gradually resume.
As the COVID-19 situation in China continues to improve, the effects of policies to stabilise economic growth continue to emerge, and exchanges between Chinese and other peoples become easier, China's long-subdued consumer demand will be released, investor confidence will be boosted and the economy will rebound strongly. This is good for not just China but the entire global economy including Guyana.