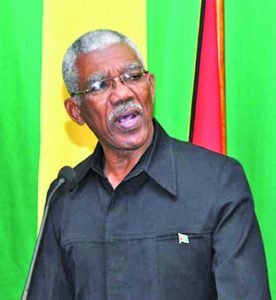 …beg President Granger to remove him as GM
AFC official Sherod Duncan has been described by workers of the Guyana Chronicle newspaper as a "bully" in a petition which was on Monday submitted to President David Granger.
The petition is calling on the Head of State to overturn a decision made by Prime Minister Moses Nagamootoo to reinstate Duncan as the General Manager of the entity, even after he was validly dismissed by a Board of Directors in light of several breaches of financial regulations.
With some 20 signatures from workers of the editorial and accounts department, the petition states: "Mr President, we respect Mr Duncan as a person but Mr Duncan attitude as a manager is nothing more than that of a bully. He listens to no one and acts as though he is law unto himself."
Duncan, who previously served as Deputy Mayor of Georgetown, worked as General Manager from June 1, 2018, to April 1, 2019. However, during that period, he spent several months on administrative leave pending an investigation into reports of wanton spending under his watch.
He was fired with immediate effect in April 2019, following a decision by the Board of Directors, by majority vote.
His services were terminated after an audit found that, during his three-month probationary tenure, there were some 20 breaches to financial regulations, including the spending of large sums of money without approval.
In one instance, Duncan took an overseas trip costing over $700,000 even though there is no documented approval for such an event and to date, documents were not brought forward to support these expenditures.
Even in light of these glaring findings, Prime Minister Moses Nagamootoo on May 31, 2019, dispatched a letter to the then Chairperson of the Board, Geeta Chandan-Edmond, instructing that the decision be rescinded.
Nagamootoo claimed, in the letter, that he heard that no actual vote was put during the Board meeting.
But minutes of the meeting seen by Guyana Times proves that all Directors voted; three in favour to dismiss Duncan and three against such a move. The Chairperson broke the deadlock by voting to have Duncan's services terminated.
The intervention by Nagamootoo, which has since been supported by AFC Leader Raphael Trotman, has been described as an overreaching of his authority and has since resulted in the Chairperson and three other Board members resigning.
The staff of the Guyana Chronicle are also against the return of Duncan.
In the petition to the President, the workers explained that initially, they were welcoming to Duncan as their new General Manager. But as time passed, staff members became "uneasy" about his conduct on the job, including his day-to-day interference in every department of the company.
The petition outlined that Duncan took control of key accounts on the company's social media platform and handed the management of these to persons "who appeared on the job without passing proper interviews as per procedure".
"He did this without regard for others who have been carrying out these duties prior to his appointment," the document noted.
Duncan is also accused of taking control of the layout department. In the petition, it states that "the layout staff were only left to resign since their duties were handed to a private company".
As a result of this, staff members became fearful of losing their jobs and this fear peaked when Duncan arbitrarily and unilaterally dismissed Finance Controller, Moshamie Ramotar after an online news entity reported on the newspaper's spending.
Ramotar's termination was since rescinded by the Board of Directors, as due process was not followed.
According to Chronicle staffers, this fear of losing their jobs has since been reignited with the return of Duncan. "Some staff members, who for years have worked above and beyond the call of duty, have decided that they would be resigning," the petition posited.
In fact, Guyana Times was informed that many persons who support the petition did not want to attach their signatures to the document over the fear of being victimised.
The petition implored President Granger to intervene.
"We are asking that you review the appointment of Duncan on our behalf and that this decision be swiftly dealt with even as we keep in mind that you have a busy schedule to manage the affairs of the State," the petition stated, concluding with staff reminding that their appeal has "no origin in hate or malice towards Mr Duncan".
The petition was copied to the Prime Minister as well as the Minister of State, Dawn Hastings-Williams.
There are over 20 transactions conducted under Duncan's watch or by Duncan himself, which were in blatant violation of financial regulations.
Further, cash advances were given to Duncan to travel overseas, but he did not clear the amounts. It was also found that the company's personnel policy and procedures manual were ignored during the recruitment, termination, and dismissal of employees.
The Guyana Chronicle has a Management Tender Committee, which approves transactions ranging from $100,000 to $300,000 before payments are made. But during the stipulated time examined, no approval was given for nine such transactions valued at $1.6 million.
Chateram Ramdihal Chartered Accountants Professional Services Firm, which is also known as Ramdihal and Haynes Inc, was contracted by the Auditor General to conduct a special audit on the overall management and governance of the Guyana Chronicle for the period of June 1, 2018, to September 10, 2018.