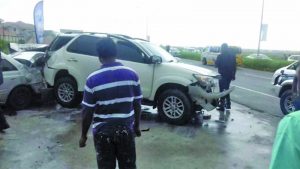 The vehicle owned by Mayor of Georgetown, Ubraj Narine was on Tuesday afternoon involved in an accident along the Rupert Craig Highway, East Coast Demerara, which left three other vehicles badly damaged.
Guyana Times understands that the Mayor's driver was alone in the vehicle at the time and was making his way to Georgetown when he lost control of the vehicle bearing registration plates PPP 8909 and crashed into three parked cars in the vicinity of Movie Towne.
Commander of C Division (East Coast Demerara), Calvin Brutus confirmed the incident but was unable to give particulars of what occurred. However, an inspector attached to the Sparendaam Police Station revealed that the 42-year old driver was not under the influence of alcohol at the time of the accident.
He further disclosed that a male driver, who was sitting in his car at the time, was injured as a result of the impact and was rushed to the Georgetown Public Hospital where he remains a patient in a stable condition.
Meanwhile, the Mayor's driver has sought medical attention since he too complained of feeling unwell, although he did not receive major injuries.
Mayor Narine departed Guyana for Trinidad on Tuesday morning to attend a Global Covenant of Mayors (GCOM) for Climate Change and Energy in the Caribbean.
Just under a month ago, seven parked cars were badly damaged as a result of a speeding car which lost control on the vicinity of Liliendaal on the East Coast of Demerara.