…NDC claims cannot afford to pay operator
Several hours of continuous rainfall resulted in some Corentyne villages being flooded on Saturday and Sunday.
Among the hardest hit were Numbers 36 and 52 Villages. Both villages are situated in different Neighbourhood Democratic Councils (NDCs).
At Number 36 Village, some residents say that their entire backyards which they use for farming have been inundated.
Most of those residents utilise their backyards to cultivate vegetables which they sell at the Port Mourant market to earn a living.
Some residents had as much as seven inches in their homes after the rainfall of Saturday. Many have reported that electrical appliances were destroyed. Some say theirs was damaged.
"This is dry weather and a little rainfall and look what happen here," one resident said while standing in several inches of water in his living room.
"Every time you talk to the NDC about digging the drains, they saying that they don't have machines," another resident told this publication.
Meanwhile, at Number 52 Village, a sluice was not opened during the rainfall which resulted in water accumulating on farmlands.
The 52-74 NDC had allegedly refused to pay the sluice operator additional sums to operate a small sluice that takes water to the main drainage canal.
As a result, even though the main sluice is opened, water from some sections of the village could not get to the canal because another sluice was closed.
During a meeting with Agriculture Minister Zulfikar Mustapha on Saturday, the sluice attendant told the Minister that he has not been operating that sluice since the NDC had asked another person to operate it and they were refusing to offer him additional money to operate a second sluice.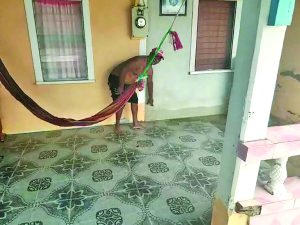 According to the Overseer of the Number 52/74 NDC, the NDC received a proposal from someone requesting $20,000 to operate the sluice and since the NDC could not afford that sum, the sluice remained closed.
However, on Saturday morning the sluice was opened after residents started complaining of rising floodwaters in their cultivation area.
The NDC has promised to revisit the issue of paying an operator for the smaller sluice. (G4)