…more Govt support assured
Government has committed to providing more support for Crabwood Creek (CWC) farmers.
The commitment was made by Agriculture Minister Zulfikar Mustapha during a meeting with the farmers on Saturday.
The farming community of rice, cash crop and cattle farmers explained that several issues were affecting their operations and development in their respective industries.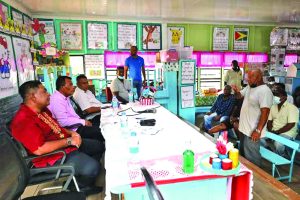 Among some of the concerns raised during the meeting was the lack of adequate drainage which farmers said will adversely affect their crop if not urgently addressed with the impending May-June rains.
According to the Agriculture Minister, a long boom excavator will be deployed to CWC within one week to have canals cleared.
The Minister also committed that a canal leading from the Canje River with be established which will allow for better irrigation of all far lands in that community.
"So, that you would have your own irrigation canal. I am hoping that within a short space of time we can set up that canal for you. We are looking at other infrastructure and to work along with you for us, one of the more important sectors in our country is the agriculture sector."
Agriculture, Mustapha said, must be seen as one of the main pillars of Guyana's economy.
He also undertook to have engineers examine the possibility of activating a sluice and or look into the construction of a new sluice to drain a section of the community.
He outlined several interventions to be taken by the various departments of the Agriculture Ministry to ensure that those farmers get maximum benefits from the Government's continued support to the sector.
Collaboration
Farmers also sought the intervention of the Agriculture Ministry and asked for assistance to find markets for their produce.
Some cash crop farmers, on occasions, find difficulty finding markets that offer a reasonable price for their produce.
Arrangements are now being made to have the New Guyana Marketing Corporation (GMC) work with them.
The New GMC promotes the sale and consumption of locally produced and manufactured non-traditional agricultural produce and products and supports the development of micro and small agri-businesses by providing market and marketing information on market opportunities locally, regionally and internationally.
It also provides a match-making service linking buyers and sellers and advises on the availability of produce, freight and other marketing matters.
Flood relief grants
Meanwhile, during Saturday's meeting, farmers complained that many of them are still to benefit from Government's flood relief grants. Some received their grants last year while others have been receiving them as the year progresses.
"Every one of you, who we promise will get your flood relief. Please bear with us but we have the list of the names of those who are still to receive and those cheques are being processed. What has happened is that people are claiming that some persons who did not qualify for the grant were given, so now we have to have out officers to do the verification. That process has been finished and the Ministry of Finance is preparing the cheques," Mustapha told the farmers.
According to the list which was made available, 97 cash crop farmers, 47 cattle farmers and 6 rice farmers are still to receive their flood relief grants.
The farmers also called for a new road to link CWC to the Canje River which they say will open up thousands of acres of land.
"Let us put it in order of priority and we will work with that. We will not come and impose anything on you all. We want you the residents and farmers of Crabwood Creek to tell us what you need because you all are using the infrastructure that we are building and you must know what is needed," the Minister pointed out.
Currently, the Government is constructing a new all-purpose farm-to-market road at Number 58 Village which will link the Canje River with the Corentyne River at that point. Government is seeking to open up State lands to ensure small farmers have access to it. (G4)