Presidential Candidate of the People's Progressive Party/Civic (PPP/C) Irfaan Ali on Wednesday said that the incumbent APNU/AFC Coalition is "shameless" to be campaigning with a slogan on progress when its term in office has been defined by regress in almost all economic sectors that once drove the country.
The governing Coalition has been using "Don't Stop the Progress" as its slogan on the campaign trail.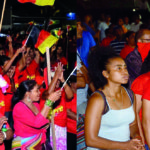 But according to Ali, "These guys are shameless to campaign, first on dignity and honesty which has been dismantled already and then to use a tagline 'Don't Stop the Progress'."
Bauxite export earnings falling, infant mortality increasing, non-performing loan increasing, some 30,000 Guyanese losing their jobs, $118B was squandered from government and gold reserves, forestry sector contracting were among some of the areas that have declined Ali highlighted during a public meeting held in Alexander Village, Greater Georgetown.
"This is the reality of the Guyana we living in today so what progressing are they talking about. What progressing are they campaigning that we should not stop? It is clear from all the fact that our country has regressed in the last five years. You know it, you feel it in your pockets everyday…," he contended.
The presidential candidate went onto outline plans that the PPP/C has to not only return Guyana to a state of economic progress but put back money into people's pockets.
Better equipped
He added too that a PPP/C Government will spend money to ensure that young people are properly trained and better equip to benefit from the many job opportunities that will be coming Guyana's way in the various sectors as a result of the oil and gas sector.
Ali questioned how many persons from communities such as Alexander Village have benefited from activities connected to shorebase developments.
"How many young people from this community, who are the closest to shorebase opportunities, were employed. What this tells you is that there is a misguided approach to ensuring local content. There is a misguided approach to ensure that the opportunities from the oil and gas sector reaches the people of our country and that is why one of the first things we have to do is to ensure we visit all of these communities and we enable you by training and investing in you to ensure that the jobs and benefits of the oil and gas come to Guyanese first," he asserted.
According to Ali, the party manifesto has outlined many such initiatives to ensure this including the establishment of various Centres of Excellence, creation of 50,000 jobs, reduction of electricity costs, free university education and online scholarships, reversal of over 200 new taxes, improve healthcare services and reintroduce subsidies and grants to pensioners and students, respectively, among other things.
Urban improvement programme
Additionally, he noted that the implementation of an Urban Improvement Programme will see focus not only placed on roads, water, drainage, health and garbage disposal but one that will focus on social and economic issues to ensure that the communities are vibrant and upgraded to transform lives and livelihood.
The PPP presidential candidate posited that the PPP Manifesto will ensure that all Guyanese are winners after March 2.
Meanwhile, PPP General Secretary Bharrat Jagdeo told supporters and residents of Alexander Village that they do not need any more evidence or reinforcement on the incompetence of the incumbent Coalition Government and how much it has cost the country during its tenure.
"We have marked time for five years, and in development terms, that means a lot for the country. We have no vision, we are drifting and even the most elementary of plans is not available now. [President David] Granger talks about a lot of strategies, etc. but when it comes down to reality and getting things done, he is incapable of translating very lofty ideas into very practical things that matter to people like jobs, addressing cost of living, getting low income housing to people, addressing the crime rate, making sure that people pay less taxes… how they education their children and making it affordable," he posited.
According to Jagdeo, the track record of developments under the PPP during its 20 plus years in office is well known. That progress, he noted, was achieved within any oil money and is something that the coalition is incapable of doing even with resources from the petroleum sector.
The PPP General Secretary went onto dispel rumours that the party is paying people in Region Five to vote in its favour at the upcoming polls, noting that this stemmed from the desperation of a panicking Coalition.
"We are three weeks away from a change of Government and they are panicking…," he posited.
Jagdeo noted that the people who would have voted for the Coalition in the past have had their lives changed for the worst over the past five years.