European experts will be conducting a workshop with local law enforcement officials to develop improved policies for Guyana to stamp out the illegal arms trade, even as Public Security Minister Khemraj Ramjattan admits the system is already under strain from cross-border smuggling.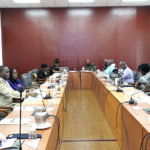 The workshop is being conducted from February 12 to 13 at the Arthur Chung Convention Centre, under the European Union's Export Control Programme for arms. A key part of this programme is implementing the Arms Trade Treaty of 2013, which Public Security Minister Khemraj Ramjattan noted is the only of its kind.
According to Ramjattan, the programme provides for Guyana to reach out to the international community for help, building capacity. It is a capacity that is sorely needed, according to Ramjattan, Guyana's control of the illicit trade is under strain.
"This system that we have is being stretched and strained. Largely one of the causes, as we know, is Brazil is a manufacturer of weapons. And we have very close contacts with Brazil. It's to our southern border. And ever so often, Police catch a culprit found with a Brazil-made Taurus (gun). And it is unregistered."
"It is also stretched and strained because we have a problem west of us in Venezuela, where there are lots of guns and lots of migration out from Venezuela into Guyana, Brazil, Columbia and so. The migration problem is a huge problem globally. But when people are coming across your border and you don't have the resources to control border entries that exist, you will have people who want to come across with guns."
He also noted that there have been reports of persons from Venezuela, in the throes of an economic crisis, selling guns for food. Ramjattan also noted that in Guyana's case, it is situated in a region notorious for its high rate of gun violence.
In fact, he explained that it determined with expert advice that illicit guns represent the greatest danger to the Caribbean Community (Caricom), followed by organised crime and drug trafficking.
"Anecdotally, if I may say so, we have heard of situations where some across the border with Venezuela have been selling guns for food! And very cheaply at that. And we are providing the food for them, they provide the gun. That's a very serious development and one can appreciate that indeed, that can happen. Because those parts of the border have huge difficulties in sometimes getting food."
The participants at the workshop include representatives of the Guyana Police Force and the Ministry of Foreign Affairs. Meanwhile, the EU is represented by Johnny Capelle, a Belgian Customs officer; Pascal Van Mele of the French Ministry of Defence and Trade Treaty expert, Dr Sylvain Paile-Calvo.