…as Head of State meets with Abu Dhabi Ports executives
In keeping with the buzz of investment opportunities, a consortium of Brazilian investors is expected to arrive in Guyana today, for a visit that will see them exploring opportunities in soybean and corn cultivation.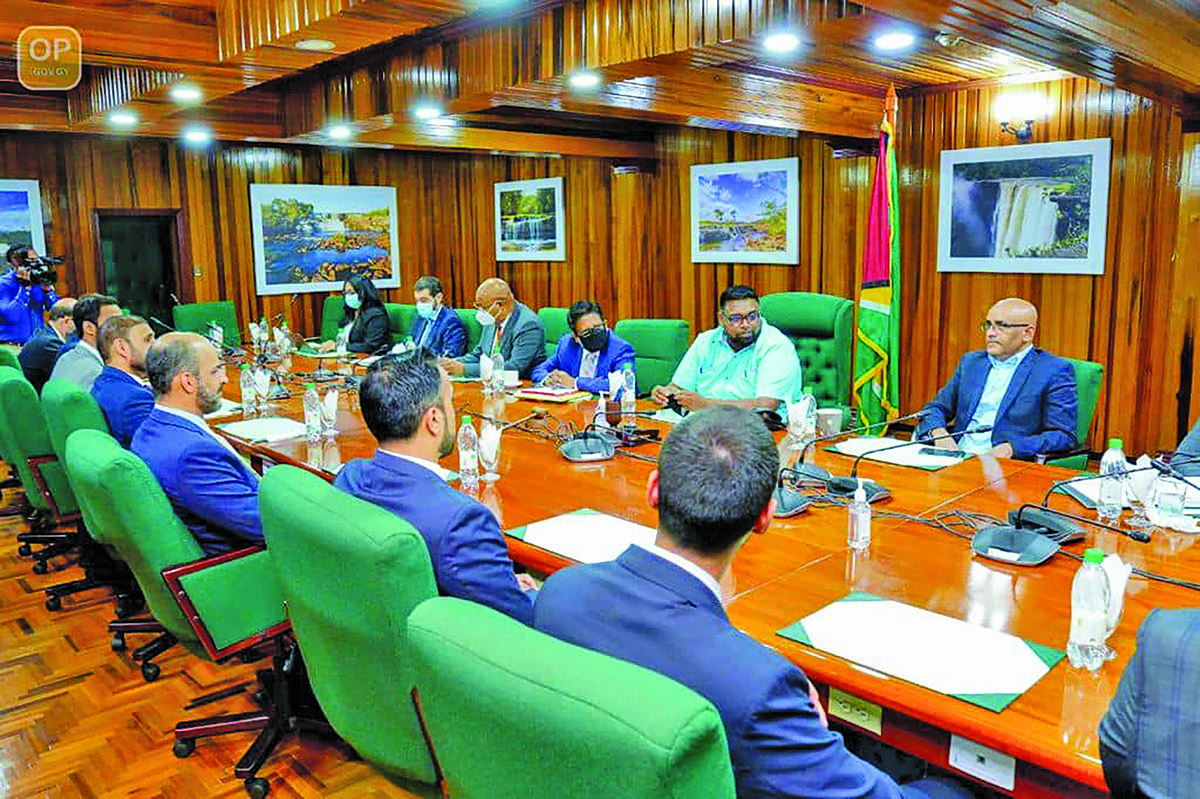 According to a joint statement between the Global Chamber of Business Leaders (GCBL) and Intelligent Business Network (IBN), these Brazilian investors will be negotiating partnerships with local partners so that the foundations can be laid for the industry.
Both GCBL and IBN will be spearheading these engagements. According to the statement, the two sides will be seeking to form a joint venture that will operate in the Intermediate Savannahs of Region 10 (Upper Demerara-Berbice).
"Thursday's arriving team from Brazil will include the investors and their technical engineers who are all expected to remain in Guyana for one week where site location visits and other engagements are among the itinerary. The Guyana visit is part of a process to continue already advanced negotiations between the two sides," the statement said.
"At the proposed site for the project, the visiting team from Brazil is also expected to collect soil samples for analysis and prepare a work plan thereafter. The team is also expected to meet with officials from Go-Invest and the National Agriculture Research Institute (NARI)."
They will also be seeking to sign a Memorandum of Understanding (MoU) between the two sides. According to the statement, the joint venture once formed will be seeking to begin cultivating the first crop as early as the first quarter of 2022.
"Based on the communication from the partnership, the aim is to cultivate 1000 (one thousand) hectares of soybean and corn in the first year with plans of increasing that volume consistently," it said.
The statement included a quote from the Head of the IBN, Suresh Ramkissoon, who spoke of prioritising activities that give effect to the United Nations Sustainable Development Goals (SDGs).
"Global Chambers of Business Leaders is focused on prioritising activities that are aligned with the United Nations-declared Decade of "Action which seeks to promote the importance of inclusion of Sustainable Development Goals in the business model of the future. This allows for our partners, members and participants to prepare their business to be vanguards of the future of business through global collaboration," Ramkissoon said.
Ramkissoon and the Delegate of GCBL to Guyana also explained in the statement that they were conscious of the limited information available to farmers and investors who have an interest in soybean and corn crops. They, therefore, expressed a willingness to open and share available information with interested parties on how to cultivate the crop successfully.
Abu Dhabi
Meanwhile, President Dr Irfaan Ali and a number of high-level Government officials met a delegation from Abu Dhabi Ports, a company based in Abu Dhabi, the capital of the United Arab Emirates (UAE) that deals in industrial zones and logistics.
The meeting, which was held at the Office of the President on Wednesday, included Vice President Bharrat Jagdeo; Finance Minister Dr Ashni Singh; Natural Resources Minister Vickram Bharrat; Public Works Minister Juan Edghill; Tourism, Industry and Commerce Minister Oneidge Walrond and Director of Projects in the Office of the President, Marcia Nadir-Sharma.
The meeting comes ahead of Expo 2020 Dubai, scheduled to be held in Dubai, one of the UAE's seven countries later in the year. The President has already said he would be travelling to Dubai for the expo.
It also comes amid the Administration's thrust to develop closer ties with the UAE. It was announced at the start of the year by Foreign Affairs Minister Hugh Todd that Guyana would be moving to set up two embassies in the Middle Eastern states of Qatar and UAE. Todd had said that this would be done by 2021-year end.
And in November of last year, His Highness, Sheikh Ahmad Dalmook Juma Al Maktoum of the UAE had led a high-level delegation to Guyana for a three-day State visit. (G3)