…no info on whether Govt official instructed Police
The Guyana Police Force (GPF) on Thursday afternoon denied that one of its ranks had been verbally assaulted by an A Partnership for National Unity/Alliance For Change Government Minister after an online article went viral on social media about another confrontation involving yet another official serving within the David Granger Administration.
The online article had alleged that Minister within the Public Infrastructure Ministry, Annette Ferguson had been involved in a confrontation with ranks of the East Ruimveldt Police Outpost after they refused to adhere to instructions from her to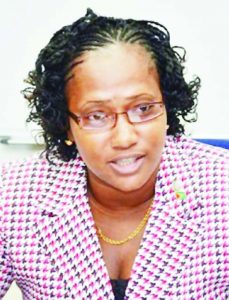 release someone they had arrested for committing an offence.
The offence was said to have occurred on Sunday night when the individual in question was alleged to have been speeding on a motorcycle without a number plate which resulted in him being stopped and detained.
The article further alleged that the rider assaulted a Police Constable identified only as "Jacobs" before he was taken to the East La Penitence Police Outpost.
It stated that the ranks complained that the Minister in question had verbally assaulted them after they raised objections that she could not instruct them or even threaten them with dismissal. The man was released and the Minister subsequently left.
The Police Force in responding directly to the article said that the Police Constable has denied being abused. It did not name him.
"Please be advised that the Constable in question has indicated in a signed statement that he was neither abused nor assaulted by the Honourable Minister Annette Ferguson, during the night in question," Police said.
The statement from the Police also said that "it, therefore, makes the publication by the online media entity a total fabrication, which may have legal consequences".
Surprisingly, the Police statement did not provide any other details or confirm whether the Minister had indeed given instructions to the Policemen. Further, it did not state the circumstances that led to the arrest and detention of the man or on what grounds he was released.
No official statement was forthcoming on the Minister's very active social media page about the incident, and efforts to contact her for a comment on Thursday proved futile.