Less than a year after escaping from the Lusignan Prison on the East Coast of Demerara (ECD), murder convict Shazam Khalil, also known as 'Boi', of Shieldstown, West Bank Berbice was recaptured on Saturday evening.
Khalil escaped from the prison on June 8, 2021, and after several months on the run, was finally recaptured at about 22:30h at Number 2 Blairmont Squatting Area, West Bank Berbice (WCB).
Acting Director of Prison, Nicklon Elliot, on Sunday confirmed that Police in Blairmont, acting on information received, recaptured the escapee at a house in the area. He was immediately taken into custody.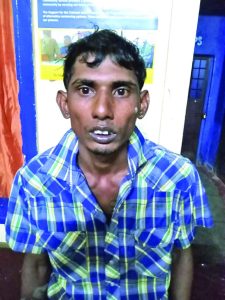 According to Elliot, Khalil will be charged with escaping from lawful custody. However, the Prison Administration has expressed its appreciation to the Guyana Police Force for their commitment and dedication that led to the recapture of Khalil, who was admitted to prison on August 19, 2016.
At the time of his escape, Khalil was serving a life sentence with the possibility of parole only after 24 years. Khalil, who previously worked as a cane harvester, was sentenced to life imprisonment by Justice Jo-Ann Barlow for the murder of Sheniza Mohamed, his teenage ex-girlfriend, at Rosignol, West Bank Berbice in January 2015.
Over the past months, there have been several breakouts from prisons, with the most recent being in August last year, when an inmate of the Prison escaped from the facility but was swiftly recaptured by members of the Joint Services.
Policemen had received information that wanted man Quincy Clarke, 38, of West La Penitence, was hiding in a house at Calendar Street, Albouystown, Georgetown.