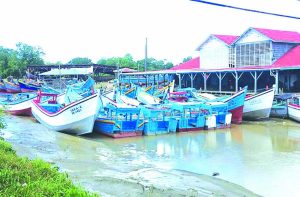 Persons who operate in the fishing industry along the Corentyne are calling on the Guyanese Government to apply more pressure on its Surinamese counterpart to ensure that they are directly issued with fishing licences.
Currently, authorities in Nickerie only issue those licences to business persons in the Dutch speaking country claiming to be fishermen. However, with the Corentyne River being considered Surinamese territory, the licences are needed even to go into the Atlantic.
The renewed call comes as those businessmen are asking for an additional 200 percent markup on the already 500 per cent they have been demanding to rent the licences to Guyanese fisherfolk.
Authorities in Nickerie, Suriname, issue licences to fish in its waters for SR$2500 which is US$70.37. Under the current system, they can only be issued to Surinamese who must own a boat and have been paying taxes in that country.
In Nickerie, some persons secure dozens of licences which they have been renting to Guyanese for US$3000 annually.
About 150 such licences are rented but the demand now surpasses 250. This has led to many local fisherfolk offering as much as US$4000 for permission to use the licence to operate. With this new trend, some of the holders are demanding US$4500 and as much as US$5000.
Local fishers say some Guyanese fishers have been making offers of up to US$4500 to the middlemen in Suriname for the rental of the licences.
This has led to corruption where some licences are being rented to two persons. In some cases, both vessels owned by different persons must carry the same name which is to be engraved on the boat according to Suriname regulations.
In order for the licences to be issued, the Guyanese boat owners would have to allow the licence holder to present the boat to authorities in the Dutch-speaking country as their own to have it registered.
President Dr Irfaan Ali has previously expressed that his Government is not happy with the way fisherfolk are currently treated.
Following the high-level meeting in Guyana in August 2021, between Guyana's Head of State President Ali and Surinamese Head of State President Chandrikapersad Santokhi, the two leaders issued a joint press statement indicating that the age-old issue of licences for Guyanese fisherfolk to operate in Suriname's territorial waters would be addressed.
To date, the issue is yet to be addressed, with Surinamese officials failing to honour their commitment.
The renewed call by the local fisherfolk for more to be done comes as the price for deep water fish continues to soar.
On Tuesday snapper was being sold at $700 per pound from the fishing boat and in the markets at $1000 per pound.
Fisherfolk related that with the current arrangement, the boats must be logged in Suriname waters and the catch must be taken to Suriname for sale and can only come to Guyana if there is no available market there.
Fisherfolk told this publication that the 1980 agreement between the two countries stated that the Dutch-speaking country must issue 50 licences directly to Guyanese fisherfolk but this was stopped in 2003.
The Dutch-speaking country argued that under their Constitution, they cannot licence non-nationals to operate in their waters.
The current unofficial arrangement sees those who have been able to rent licences having to have their boats remain in Suriname and also purchase ice and fuel there. Millions of dollars in the sale of fuel in the upper Corentyne are being lost monthly. Additionally, a not significantly lesser amount in the sale of ice is also being lost.
Already this year, authorities in Nickerie have issued forty licences to operate in its waters – all of which have been rented to Guyanese fisherfolk. It is expected that more will be issued in the coming month as boats are inspected and registered in Suriname.
Local fisherfolk say the Government must do more, pointing out that Guyana has been inking trade agreements with many Caribbean countries but is not able to get its neighbour to work with the local fishers. In fact, now revenue is being taken away from them.
Agriculture Minister Zulfikar Mustapha told Guyana Times that to date, the impasse on the issuance of the fishing licences still exists, despite a number of bilateral talks on the matter between Guyana and Suriname.
Mustapha said he plans to soon engage Guyana's Minister of Foreign Affairs and International Cooperation, Hugh Todd, to "deal with the matter and look at a way forward".
The Agriculture Minister indicated that this is particularly important since "some fisherfolks are saying they have to pay increased fees now to their counterparts in Suriname."
Guyana's Vice President, Bharrat Jagdeo, is on record saying that the Guyana Government has suspicions about why the Santokhi-led Administration is not honouring its pledges.
"The only thing that we can commit to is keeping the pressure up," Jagdeo told the fisherfolk in April, adding that the issue is a priority for the Guyana Government.
According to him, Guyana's Government is aware of the reason for the Santokhi-led Administration not acting on its promises.